Woohoo! Blur will receive an Outstanding Contribution to Music award at the Brit Awards in February, event organizers have revealed. The honor has previously gone to U2, Oasis, Paul McCartney, and other acts of similar renown.
Probably best known in the U.S. for the two-minute grunge goof "Song 2," from 1997's self-titled album, Blur achieved massive stardom in the group's native Britain, with an eclectic and commanding discography. Frontman Damon Albarn has since gone on to greater global commercial success with animated hip-hop group Gorillaz, as well as performing in the band Good, the Band, and the Queen and releasing various projects involving music from far-flung locales.
The Brit Awards will take place on February 21 at London's O2 Arena. Last year's ceremony included performances by Mumford & Sons, Rihanna, Arcade Fire, Adele, Cee Lo Green, and Tinie Tempah. "It's great to have recognition for all the work and all the heartache and all the joy that;s gone into this band," Albarn said in an official statement.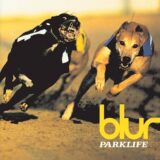 Blur's seventh and final studio album was 2003's Think Tank, though guitarist Graham Coxon left prior to the album's release and ensuing tour. The group has teased fans with ideas of a reunion ever since, culminating so far in a triumphant 2009 performance at London's Hyde Park. Blur released its first new recording in years, the song "Fool's Day," as a Record Store Day single in April 2010.
Comprising the artsy pop idol Albarn, bespectacled indie kid Coxon, cigarette-dangling bassist Alex James, and wonky, politically active drummer Dave Rowntree, Blur helped pioneer the 1990s Britpop movement. Evolving from an early style heavily indebted to the U.K. indie-dance scene on 1991 debut Leisure, the band came into its own with quintessentially English 1993 classic Modern Life Is Rubbish. By the time of 1994's Parklife and 1995's The Great Escape, Blur was battling with Oasis for U.K. supremacy.
By continuing to change aesthetics, like key influence David Bowie, Blur went on to find additional success. After Oasis appeared to have won the longer war between the two groups, Blur came out of nowhere with a Pavement-influenced 1997 self-titled album that would turn out to the be the group's biggest-selling U.S. release to date. The melancholy, William Orbit-produced 13 followed in 1999, leading to the pre-Gorillaz experimentation of 2003's Think Tank.
Coxon, who sings one of his only lead vocals for the group on jangly 13 sleeper hit "Coffee and TV" (remember the video with the milk carton?), has released a string of solo albums, which are also worthwhile for followers of Blur. Though Coxon's quality control tends to be spottier than his former band's, he nearly always hides a few diamonds in the rough. His most recent solo album was 2009's The Spinning Top.
"Being in a band this long is like a kind of time travel," Coxon says in the official statement. "We're the same gang we ever were, we've just landed in a different era." See ya in 2012, young man.
https://youtube.com/watch?v=gghFPavXE7Q%3Fversion%3D3