Yuppies have Frampton Comes Alive and New York hardcore stage divers have Live at CBGB, the concert LP that NYHC trailblazers Agnostic Front released in 1989. While it's obvious to credit CBs as the launching place for Ramones, Blondie and Television, the truth is that throat-shredding hardcore is what kept it going the longest, making the "matinee show" an institution. Last night, the group intended to recreate that album at New York's Webster Hall as part of the inaugural CBGB Festival, but much like many hardcore matinees at the legendary venue, the band had to rush to meet a strict curfew.
"We have to cut our set list down from 400 songs to six," quipped frontman Roger Miret at one point. He added, "Not that any of you will care." But while that last bit may seem glib, Miret was sort of right: The mostly full audience in the 1,400-capacity venue were too busy moshing, jumping onstage and picking up change to notice.
In true hardcore fashion, the audience was as much the star as the lineup, which also featured three other New York hardcore stalwarts: Madball, Murphy's Law, and Maximum Penalty. Throughout the night, the frontmen of each band would call out to faces he saw in the crowd between every song; and flanking the amps and drum kit onstage were more friends than at a Wu-Tang show. By the end of the night, anyone who wanted to was allowed to jump onstage for Agnostic Front's closer "Gotta Go," off 1998's Something's Gotta Give. During that number, there was enough of a mob onstage that some fans were actually crowdsurfing… on the stage. Somehow, the band didn't miss a note.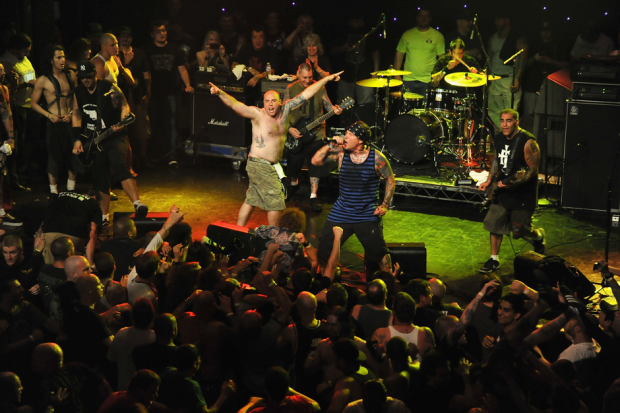 "If you're into hardcore, punk, metal, hair metal, you're here supporting our culture," said Madball frontman Freddy Cricien. "This is a movement." Indeed, it was a place where people could feel included. At a time when security at concerts should be under careful scrutiny (especially considering the recent detainment of Lamb of God's frontman under charges of manslaughter after allegedly pushing a fan offstage), fans were clamoring at the front of the stage and singing into each singer's microphone. When someone stage-dived, he or she looked to make sure the crowd was ready for the catch, and when one concertgoer wanted to get onstage, the fans put his wheelchair up first then helped him into it so he could yell along with Madball.
The bands played it as loose as the fans. Murphy's Law worked without a set list, connecting songs like the brutal "Care Bear" and the frenetically paced "Beer" with funny banter and even a verse of "Happy Birthday" for Miret, who turned 48 a week ago. During "Panty Raid," someone brought a bucket of beers onstage, which Murphy's Law frontman Jimmy Gestapo distributed to the front row, along with shots of Jager. Madball played a slightly more regimented set, though the group's tough demeanor cracked each time Cricien said "respect" after songs like "Set It Off" and closer "For My Enemies." But it was Agnostic Front, who demonstrated what the community was capable of. Even though they didn't stick to the script of playing Live at CBGB, they played enough adrenaline-pumping songs from their early repertoire ("Victim in Pain," "Blind Justice," "Crucified") that the audience never seemed to stop moving. By the time it reached critical mass during "Gotta Go," there was no stopping it. And when the band was done playing, someone from the venue had to end the night by announcing, "For safety reasons, if you're not in the band, get the fuck off the stage."
Fittingly, each band gave their respect to the legacy of that venue and its owner, Hilly Kristal, who died of complications from lung cancer in 2007. At one point, Miret recalled how Kristal asked the singer to put together the venue's final hardcore matinee, before it closed in 2006. He was honored to be asked and, in turn, enjoyed picking the bands who played it. Its lineup? Agnostic Front, Madball, and Murphy's Law.