Last night's installment of MTV's Movie Awards was the network's 11th, though it surely felt like the 55th Annual Twilight Awards. In truth, The Hunger Games stole most of the vampires' thunder, as our full recap in Wide Angle explains. But let's check out how MTV reminded us this show was airing on MTV, the network (formerly) known as Music Television:
fun. opened the ceremony by ditching their own merch for a change and joining Janelle Monae (and a choir) in tuxes for a ten thousandth yet on-point performance of "We Are Young." Vanilla Ice was amused, Jennifer Aniston was not.
Wiz Khalifa deigned to quit chilling out for three minutes to perform "Work Hard, Play Hard," which isn't too far from a wordier version of Nelly Furtado's latest. Once again, Vanilla Ice really dug it (he's in that upcoming film about male strippers, so seemed to be on camera all night), while Khalifa's fiancée Amber Rose looked as though she'd have preferred not to hear this song again.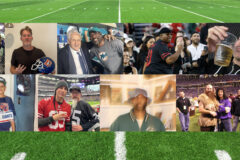 But the highlight of the awards' musical breaks came with a little help from Johnny Depp. Just before receiving this year's Generation Award (fun fact: Godzilla has also won this prize in the past), Depp gave the Black Keys an assist on "Gold on the Ceiling" and "Lonely Boy," reminding everyone that when he was channeling Keith Richards in Pirates of the Caribbean he was actually working on his gradual evolution into the Rolling Stone (seconds-long clips via MTV). Speaking of "Ceiling," have you seen the Key's Harmony Korine-directed video yet? It's a creep-fest.