Santigold's Killah Instinct
Santigold has become one of the most visionary, kinetic, thrilling artists in pop by following her dreams. No, literally.
The audience this past January at Brooklyn's Music Hall of Williamsburg was appropriately eclectic as Santigold donned an off-kilter crown from kitschy beauty store Ricky's (which she'd spruced up with dolls and coins) to debut tracks off Master of My Make-Believe. The album, a swaggering fusion of rumbling electro, skittering reggae, sharp-edged punk, and worldbeat clang, is her first in four years. "I've been away a long time and I've been working really hard a long time," she said onstage, sporting a massive grin that was all the more starkly contrasted by the fierce stares of her two stone-faced SG-1 dancers. "We are so, so happy to be back."
White, like her friend Karen O, who guests on the new album's opener, "Go!," is one of the rare performers who doesn't hesitate to show her teeth. But she isn't afraid to bare them, either. "It was awesome to find a friend and leading-lady conspirator in Santi," says Karen. "She's the real deal, a badass artist. She throws herself into the depths of her work without a safety net or fire escape. And she's also got the best hooks!"
"I feel like I am pop, but I don't fit in this fucking formula, so nowadays, I don't know what I am," White says in her cozy downstairs space, wearing a button-down shirt and black knit hat. A soothing candle burns on a table behind us, and a stack of snowboards is propped up in a corner.
Then known as Santogold (thank a litigious mail-order jewelry maven with a similar name for the 2009 vowel change), she spent two years on the road supporting her 2008 self-titled debut before she started work on Make-Believe. In that brief span, the culture made room for Lady Gaga and Twitter, and White says she saw her work seep into the mainstream (Rihanna and Nicki Minaj seem likely culprits). "People have been influenced by it and I've seen blatant rip-offs too, and that's fine, because that's what happens," she says evenly. (For the record, she introduced Beyoncé to Major Lazer's "Pon De Floor.") But on her new album's "Look at These Hoes," she playfully snarls, "These bitches ain't fuckin' with me, killah."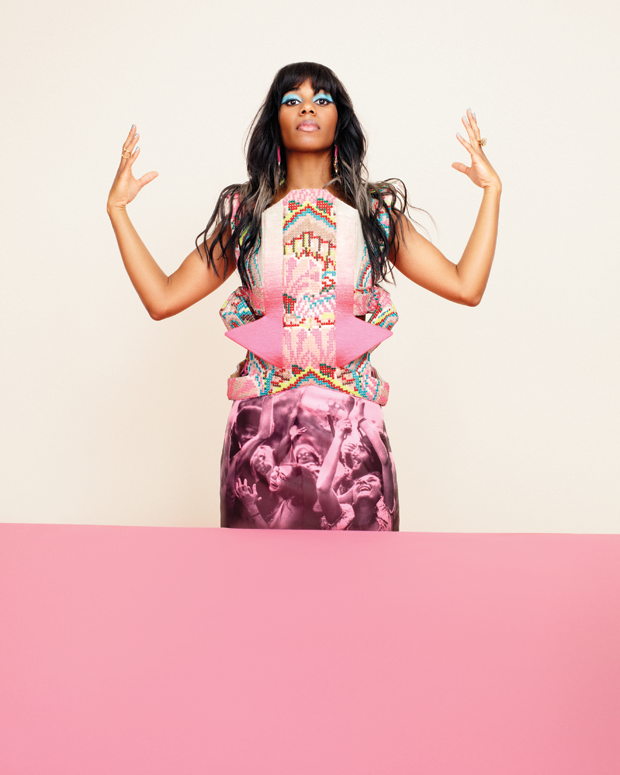 "It's a brag-and-boast song, a hip-hop song, but I do believe it," she says, with another disarming smile. Finding her confidence and channeling her power was a big part of what White was up to in the break between albums, along with writing for stars like Christina Aguilera, guesting on the Beastie Boys' Hot Sauce Committee Part Two, and climbing Mount Kilimanjaro to raise awareness for the international water crisis. While she worked closely with producer John Hill on her debut, she stitched Make-Believe together with an assortment of collaborators — Switch, Boys Noize, Dave Sitek, Q-Tip, and Diplo, to name a few — which involved a lot of time rolling solo from studio to studio, feeling isolated and insecure.
Working without a partner to lean on, or even a full-time engineer, started to drag White down. Her management was absent. Her label wasn't offering any support. She had a new puppy and too much on her plate. "I think I had exhaustion, when you wake up and you feel tired all the time," she admits. "I'd have thoughts and have to sit down." Sitek finally sent her to an octogenarian Transcendental Meditation expert in L.A. who gave her a mantra. She switched management, linking up with Jay-Z's Roc Nation squad, and got upstreamed from Downtown Records to Atlantic. And she took a totally thrilling, totally life-threatening ride on a speedboat with Diplo while on a recording trip in Jamaica where she was clinging to a metal rod for dear life. It woke her the fuck up.
"It just takes a lot for me to be excited," she explains. "Like, even if I get a massage, it's gotta be fucking hard. What's the point? I can rub lotion on myself, thanks." She pauses, laughs, and adds, "You gotta do something amazing, because there's too much of everything now, anyway. If you're going to fucking do it, go hard. That's kind of how I felt on the boat."
White has learned that which scares the crap out of you only makes you stronger, and she's been making herself uncomfortable in the name of art. She corresponded with Earl Sweatshirt via Twitter about a collaboration ("It's weird, I'm not that type of person"). She trades texts with Jay-Z ("I get embarrassed because he's really witty and I'm not. I miss every joke and then he just stops writing me back"). She introduces her dancers, Desiree and Monica, to zany moves ("It originally started where I was doing most of the choreography, because who dances like that?").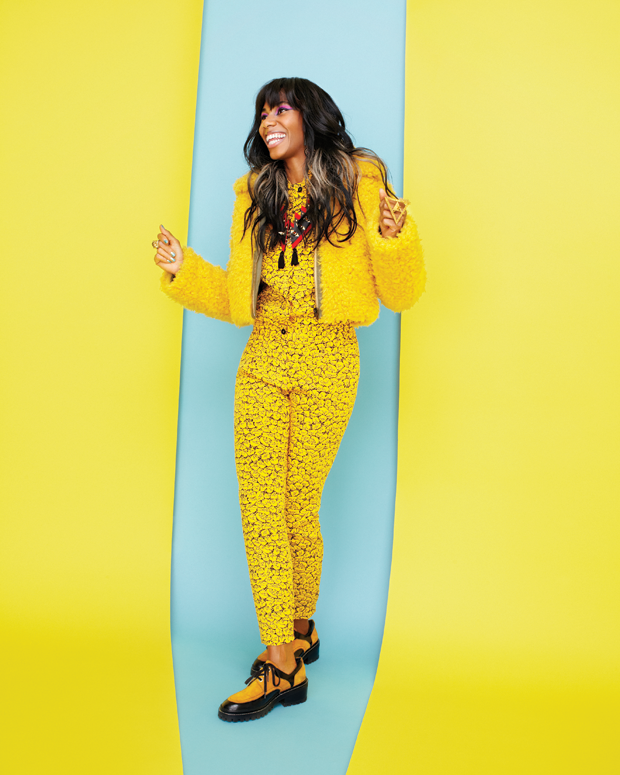 And for the Master of My Make-Believe album cover, she posed in front of the Wiley painting crammed into a gold Alexander Wang bodysuit and too-tight heels, then bound her breasts and dressed up like a man. Talk about a picture of discomfort — and power. It's an image of domination that she spliced together from source material as disparate as Stanley Kubrick and Wes Anderson (she digs his films' visual symmetry) and Coming to America (she just happens to have it on her laptop).
Albums may be audio business cards these days, as someone recently told White, but she still slaves over them. "I want to be the one in the history books," she says. "I want to be the one whose records are classics and you can always listen to them. I don't want to make trendy little songs that are here and gone."
Popularity can slip away as easily as a set of hubcaps on a Brooklyn street, but now that she's fashioned her own crown, Santi's not going to abdicate any real or imaginary thrones anytime soon. "People want my power and they want my station," she yelped at the Music Hall, marching around the stage to the relentless racket of "Go!" "Storm my winter palace, but they couldn't take it."
Cue the big-ass smile.
This story originally appeared in the May/June 2012 Issue of SPIN.