The Afghan Whigs released Up In It, their Sub Pop debut, in 1990. They played their last shows in 1999. It is very safe to call them a '90s band. But while that usually connotes some sort of one-hit wonderment or frozen-in-amber datedness, the Afghan Whigs always felt like they spanned every inch of those 10 years; from the Cincinnati proto-grunge that got them mixed up with Sub Pop to begin with to the fraught, bursting-at-the-seams mid-career major-label power plays to the soul-tinged fadeout, they were buoyed up and beaten down by everything that weird decade had to offer.
Which is why their first show together since then, at New York's Bowery Ballroom last night, felt less like an easy nostalgia trip than a reminder of problems we, perhaps selectively, forgot we ever had. While leader Greg Dulli was leaner, meaner, fitter, and in better voice at 47 than even during the band's heyday, the same couldn't necessarily be said of his core audience, but from the opening strains of "Crime Scene, Part One," all the old drama and menace and hurt feelings and failings were right there, palpable and visceral, all couched in the equally palpable sense of relief that none of us are that fucked up anymore. Tragedy plus time.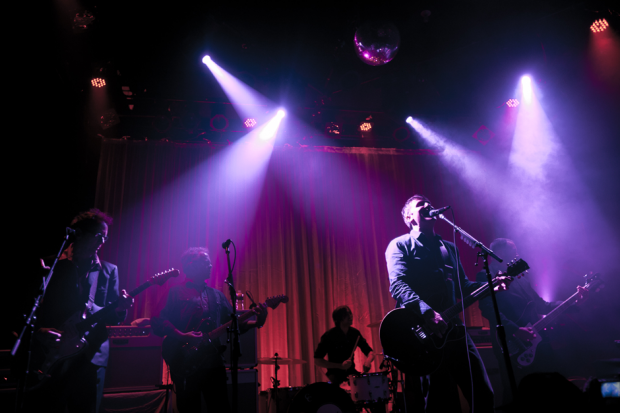 While his peers and contemporaries made self-flagellation cool, Dulli didn't stop there; his bad behavior wasn't the caveat, it was the come-on, buyer beware. He was a scoundrel and an asshole, but he looked cool smoking and could write the shit out of an apology note and all the sex was make-up sex. (On 1994's Gentlemen, the relationship was volatile but thrilling; by 1996's Black Love, we were on a first-name basis with the cops.) And though the momentousness of this reunion — the band will be playing festivals this summer, head up ATP in the fall, and do a proper U.S. tour before the year's end — is somewhat tempered by the fact that Dulli has never really gone away in the ensuing decade-plus, playing music in a similar vein with the Twilight Singers and the Gutter Twins, he's rarely seemed more comfortable in his own skin than at the front of this band (original members John Curley and Rick McCollum are in tow, joined by drummer Cully Symington and guitarist David Rosser), playing these songs, revelling in this guy-your-mama-warned-you-about persona.
That character may be reformed in some respects — before "Going to Town," Dulli reminisced about his past gacked-out onstage soliloquies, gesturing to the slick white amp stacks behind him, saying, "If we'd had these in 1998, I never would have found what I was looking for" — but gladly accepted a joint and, highly entertainingly, sparred with a mouthy fan by offering to, among other things, use the heckler's entrails as an ashtray, if only he'd still smoked. And every bit of that mischievousness found its way into the music, which spanned group's career in fairly equal measure (sans Up In It and 1988's pre-Sub Pop Big Top Halloween). He seemed nothing less than possessed during "Gentlemen," growling and shimmying, daring you all over again. The disco-ball slow burn of "When We Two Parted" and "Faded" (teased with the outro of "Purple Rain" were breathers, if no less anguished, than the frantic "Conjure Me" and "Summer's Kiss."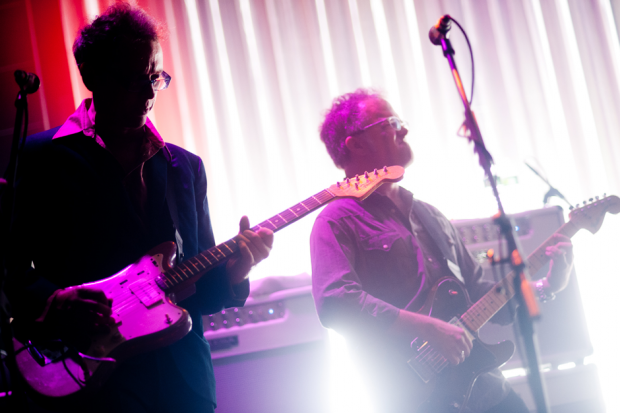 It was always Dulli's (in)sensitive soul-man side that set the Afghan Whigs apart, which is why R&B covers have always been staples of not only this band's live shows, but his subsequent ones'. The encore-opening cover of Marie "Queenie" Lyons' 1970 "See But Don't See," which is also the first Afghan Whigs recording in five years, found Dulli front and center, without his guitar, singing as well as he ever has, full-throated and artfully ravaged, while a take on Frank Ocean's "Lovecrimes" was equal parts hat-tip and gauntlet-toss. And the climactic "Miles Iz Ded," from 1992's Congregation, reminded that, when expertly done, punk and soul aren't two separate things.
Hours after the show, Dulli posed for photos with waiting fans on Delancey Street outside the venue, all smiles and hugs. As he told us months ago, there have been no false promises made with this reunion, no winks of further material, just the songs, only better. Better sound, better performances, better states of mental health. Any worries that this might dull the acrimony, though, can safely be laid to rest.
Setlist:
"Crime Scene, Part One"
"I'm Her Slave"
"Uptown Again"
"What Jail Is Like"
"Going to Town"
"When We Two Parted"/"Dead Body"
"Gentlemen"
"66"
"Conjure Me"
"Crazy"
"My Enemy"
"Debonair
"Bulletproof"
"Summer's Kiss"
"Faded"
"See and Don't See"
"Lovecrimes"
"Fountain and Fairfax"
"Somethin' Hot
"Miles Iz Ded"