No, Axl Rose never showed up for the 2012 Rock and Roll Hall of Fame induction ceremony Saturday night, exactly as he'd warned last week. The Faces didn't play, either, due to Rod Stewart's sore throat, and Adam Yauch's worrying absence meant the Beastie Boys were also among the inductees who couldn't perform. But the night wasn't without its high-profile, high-volume musical appearances.
Lacking Rose (and Izzy Stradlin), Guns N' Roses brought out Alter Bridge vocalist Myles Kennedy to join them in performing "Mr. Brownstone," "Sweet Child O' Mine," and "Paradise City." Green Day's Billie Joe Armstrong, who introduced the band, said (as quoted by by Blabbermouth), "The first time I saw Guns N' Roses on MTV, I thought, 'One of these guys could end up dead or in jail.'" Armstrong also called Appetite for Destruction "the best debut record in the history of rock'n'roll." Fans screamed, "Fuck Axl" throughout the night, Rolling Stone reports, however nobody at the podium mentioned him by name, and the sight of onetime Gunners Slash, Duff McKagan, Gilby Clarke, Matt Sorum, and Steven Adler onstage together seemingly appeased the rowdy.
https://youtube.com/watch?v=Yl5pA9FUlZs%3Ffeature%3Dplayer_embedded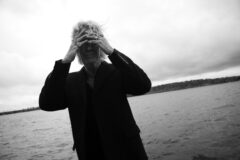 https://youtube.com/watch?v=ovPlclqWeRw%3Ffeature%3Dplayer_embedded
https://youtube.com/watch?v=BJv4vb_BoNE%3Ffeature%3Dplayer_embedded
Comedian Chris Rock, meanwhile, introduced Red Hot Chili Peppers. "A lot of people are disappointed that Axl Rose isn't here," Rock joked. "But let's face it, even if he was going to be here, he still wouldn't be here yet." Rock didn't join Red Hot Chili Pepper onstage, but Green Day's Armstrong, the Faces' Ronnie Wood (you may also know him from the Rolling Stones), and George Clinton all did, for a star-studded take on RCHPs' riotously funky cover of Stevie Wonder's classic "Higher Ground."
https://youtube.com/watch?v=iRaNyBwWUsk%3Ffeature%3Dplayer_embedded
With Beastie Boys unable to perform, the Roots, Kid Rock, and Travie McCoy took the stage instead. They performed a medley of the trio's hits, including "So What'cha Want" and "Sabotage." As for the Roots, drummer ?uestlove revealed he didn't realize the Beasties were white when he first listened to their debut Def Jam 12-inch single. Billboard quotes Questo as saying: "When 'Beastie Groove' first came on, which was the B-side… we thought they were Puerto Rican because there's a break in the song. They did this little skit and… Mike D had a crazy, heavy, Bronx/Puerto Rican [accent], like the term, 'You just fessin' …That became our lingo for all of 1984. Then I saw 'Krush Groove' and I was like, 'Yo, man, for Puerto Rican guys, these guys sure dance white.'"
https://youtube.com/watch?v=eka_fC9vB6w%3Ffeature%3Dplayer_embedded
The Faces asked Simply Red's Mick Hucknall to fill in for the ailing Rod Stewart. Billy Gibbons and Dusty Hill of ZZ Top honored late blues guitarist Freddie King, John Mellencamp spoke about Donovon, and Bette Midler wept her way through her speech about Laura Nyro. The ceremony comes to cable May 5 at 9 p.m. ET on HBO.