You'll have noticed by now that my Friday Five selections tend to be dominated by house and bass music, and they lean towards the intriguing fringes of the genre. This week is no different, taking in the Infrasonics label's mercurial garage, October's moody, retro-not-retro house music, and the young Russian producer Myown's bass deconstructions. But Warp Records' well-respected producer Chris Clark also turns up with a live, in-studio broadcast that should appeal to fans of strange, spontaneous electronic music of any stripe. And the Barcelona DJ Omar Leon, musical director of the city's Moog club, sends us into the weekend with a high-energy mix of EBM, Belgian new beat, and Spanish makina.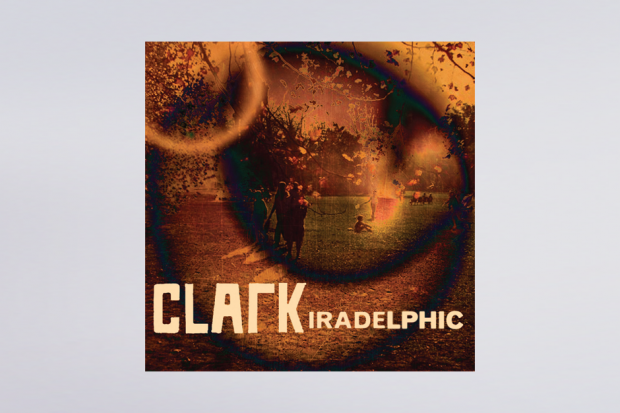 Clark, "Iradelphic Workshop" live jam
Last week, the British producer Clark (Chris Clark) fired up his Berlin studio and played a two-hour jam session live on the streaming service Ustream. Streaming, audiovisual sets have become increasingly common, with outfits like Boiler Room, Dommune, and others broadcasting live DJ sessions over the Internet, either from a studio or directly from the club's DJ booth. (One particularly rowdy Boiler Room session went down in Richie Hawtin's living room, with reports of something funny with the punch; what's certain is that Carl Craig took off his trousers on camera.) But what felt different about Clark's "Iradelphic Workshop" was its casual, homey atmosphere. Surrounded by an impressive collection of hardware, he simply ambled about the studio, doing whatever it is you do when confronted with such a vast array of knobs and flashing lights. Synthesizers growled, drum machines pattered away, and the whole thing moved like one big, amorphous mass. There was no real sense of performance to it; you wouldn't have been surprised to know that Clark wasn't even aware of the video cameras, for all the attention he paid to them. I couldn't tell you how much of what he played was related to his forthcoming album, also called Iradelphic, but it didn't matter. I left his browser window tucked in a corner of my screen, and went about my work; every now and then, something would jump out at me — a shift rhythm, a change in timbre — and I'd glance up in time to see his hand finishing its movement. You wouldn't think that a guy pushing buttons would be much to look at, but for synth nerds, anyway, it was a voyeuristic thrill of the highest order.
KingThing vs. Jamie Grind, "Waking Up/"Cold Diss" (Infrasonics)
The latest record from London's Infrasonics label, a split EP between new signing KingThing and Leeds' Jamie Grind, is a wonderful slab of bass-music yin and yang. Infrasonics' early releases, back in 2008 and 2009, marked the dubstep scene's shift towards house and garage, and hybridity continues to define the label's aesthetic.
Falling somewhere between the blunt, paranoid techno of Blawan and the tough, electro-oriented beats of recent Swamp 81 releases, KingThing's "Waking Up" is a mean-spirited amalgam of 808 electro rhythms, chest-thumping bass, and acid squelch; "Every Sunday, waking up," grunts a looped vocal, but you can be pretty sure that church isn't on the agenda. "Cold Diss" gestures at redemption with gleaming chords, but the punchy machine groove and juke-style vocal chop are as dark as the inside of a clenched fist.
Jamie Grind's two tracks, though, are all sweetness and light. "For You" is an ecstatic U.K. garage tune that bubbles in all the right places, with sped-up diva vocals, a male choral counterpoint, and a killer, jacking organ groove, all pump and flash. Sure, it's a template, but, done like this, it's irresistible. "We Still Play 140" takes things even brighter, with fizzing chords and pitch-shifted vocals strung along over a prickly garage rhythm. The title pays homage to 140 beats per minute, a tempo that's recently been falling out of favor in dubstep circles, and he's got a point: It'd be hard to evoke such blissed-out frenzy at a slower pace.
Myown, "Vesna" (Left_Blank)
I recently wrote about Lorca, a Brighton musician who previously recorded for Bristol's Left_Blank label; now Left_Blank is back with a new release from Myown, a 23-year-old Russian producer. His music is certainly in keeping with the label's output so far — grainy and oblique, taking bass-music conceits and abstracting them wildly, sometimes beyond the point of recognition. His palette is thick with down-sampled hiss; his beats writhe and fumble, securing their grip around conventional cadences and then spasmodically letting go. "Suromna" and "Vesna" are both dark, convoluted things, like lumpy rope braided from Burial and Untold cassettes, as close to noise music as they are club traditions. But Myown unfurrows his brow with "You Can Stop Everytime," an elegiac little house number suffused with a YouTube fog. All three tracks are short, just around three minutes each, which keeps you going back for more, looking for clues to the puzzle.
October, "String Theory" (Simple Records)
Bristol's October (Julian Smith) makes some seriously tweaky, lysergic techno. But his new single for Will Saul's Simple label displays a far sunnier disposition than most of his work to date. "String Theory" is straight-up Balearic house, right down to the seagull cries, which recall the trilling birdcalls of Sueño Latino's eponymous classic from 1989. "String Theory" sounds pretty '89 as well, at least at first, with its oxidized cowbells and robo-disco bass line. But its retro impulse is a promiscuous one, also tapping the lush, lo-fi chords of Pal Joey and Pepe Bradock. "Tension Point" is even better, with a soulfully nerve-wracked vocal loop ("I need to get away from all this tension / All this tension / All this tension / All this tension") drawn out over a crisp, electro-infused groove and suffused in spacey synthesizers. The Netherlands' Danny Wolfers, better known as Legowelt, delivers two remixes of "String Theory." The first is an uptempo, Detroit-inspired jam that ripples like a field of seaweed; the second, credited to his Polarius alias, is mournful acid house that sounds like it might have been recorded in 1992, complete with a decade's worth of tape hiss on top.
Omar Leon, "The Dark Side of The Moog" DJ set
Bleep43 has turned up a new mix from Barcelona's Omar Leon that ought to get your weekend off to an invigorating (if not down harrowing) start. Leon, a longtime resident at Barcelona's Loft and Moog clubs, and currently the musical director at Moog (also, full disclosure, a dear friend) has a penchant for pumping up tough techno sessions with sinister, steel-tipped EBM and Belgian new beat from the 1980s. Here, in a set recorded last December at a special "Dark Side of the Moog" night, he dives into 72 minutes of pure industrial dance, including songs by Front 242, Die Warzau, Chris & Cosey and Nitzer Ebb, along with Spanish acts like Megabeat and Germán Bou (a.k.a Espiral, Boa Club, et al).
EBM's influence runs deep in Spain. As Playground Magazine's Javier Blanquez explained in the context of the mix, Valencia discotheques subsisted on a heavy diet of dark synth-pop and industrial dance in the early 1980s. Later in the decade, as the U.K. and much of Europe fell under the sway of house music, Spain followed the heavier, more rigid example of Belgian new beat, which Valencian producers developed into the stabbing, amphetaminized sound called makina. The clubbing rituals and infrastructure that evolved around the sound, particularly a road-trip circuit of multi-club, weekend-long benders known as the Ruta del Bakalao, established the foundations of the region's rave culture; it also conditioned clubbers' tastes for harder, faster and more aggressive sounds — a preference you can still hear in Barcelona clubs today.
For Spanish speakers, YouTube has a fascinating news program from the era (parts one, two, three and four) that captures the sound and lifestyle across a 72-hour rave marathon, in all its cracked-out glory. Qué subidón!