Austin's biggest Saturday day-into-night party was the aptly named Super Party, brought to you by Check Yo' Ponytail, Mad Decent, and Fool's Gold. SPIN spent the day at Emo's East and the Beauty Ballroom chasing down the best (and wackiest) sets and most quotable rockers:
Don't miss our roundup of all of last week's best live concert photos!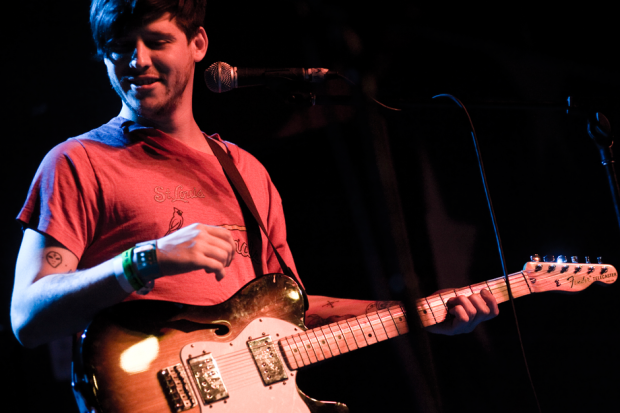 Wavves: "Why would I give you my drugs?" Wavves' Nathan Williams asked a needy audience member a few songs into his set at Emo's East. Then he added, "That's the dumbest thing I ever heard." Much less dumb? Wavves' snarling set. Huddled into a tight formation on stage left, Williams, backed by a second guitarist, bass, and drums, played irresistible fuzz-punk bursts like "No Fun" and "So Bored" with a fully plugged-in energy. Or, put another way, he came off like he wasn't doing chores, which isn't always the case. In its own impish way, the slight, reaching strain in Williams' voice and fury in his strumming was his version of aiming to please. He did so much more.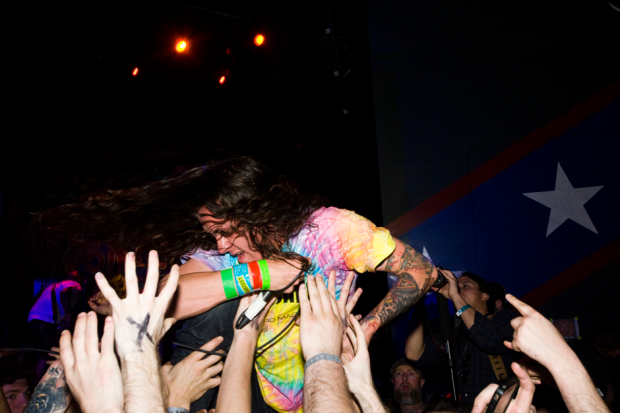 Trash Talk: A friend of mine once said that at a festival, any rapper or hardcore band will seem awesome after a bunch of indie rock acts. The different, usually more aggro, energy is a welcome jolt. So far as Trash Talk is concerned, my friend was right. Appearing in the mid-afternoon, the Sacramento punk maniacs pounded out a short set, but one that crackled with intensity. Frontman Lee Spielman flailed and roared, fans flung themselves around the circle pit and stage dived, the guitars belched and spewed, and festival-going palates were cleansed. Viciously. DAVID MARCHESE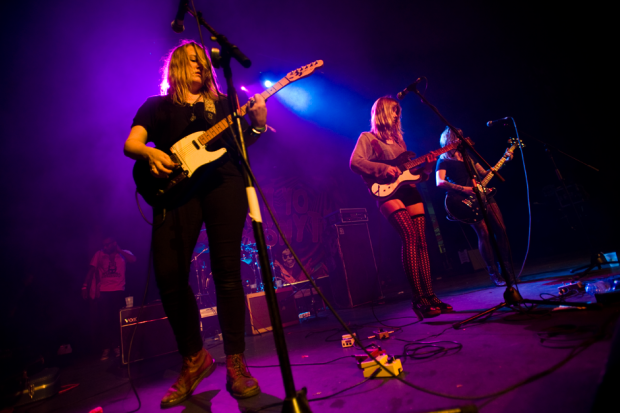 Bleached: Jennifer Clavin, late of Mika Miko and Cold Cave, is fronting a new band with her sister Jessica that has managed to garner a surprising amount of attention despite the fact that they've yet to finish their first album. In the meantime, they're getting better and better as a live act. The term "girl-group" seems inherently reductive, even if the '60s signifiers are vaguely intact, but the image of Bleached's troika of women packed together at the front of the stage with a dude drummer as far away and as tucked back in the shadows as physically possible makes it sound more like a badge of honor than a brush-off.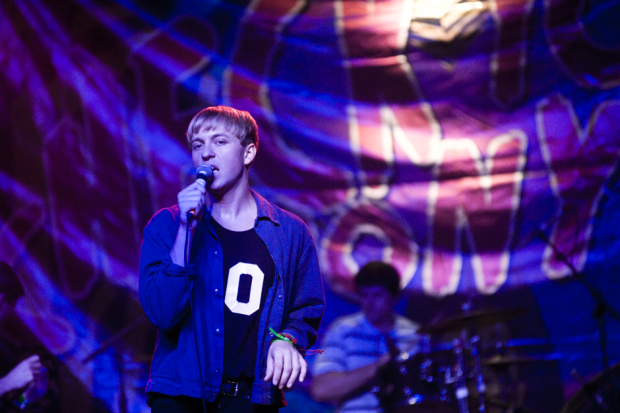 The Drums: Where a lot of bands clearly influenced by '80s electro-pop are content to act cool, or even frigid, onstage, Drums lead singer Jonathan Pierce works the boards like a proper frontman — Chris Martin by way of Morrissey — lending the band's last show of a long week just the right touch of theatricality and engagement. That may or may not have had any bearing on the three kids, probably no older than 12, who spent much of the set working on what looked like a hybrid of moshing and breakdancing, but it definitely had a bearing on the other several hundred. STEVE KANDELL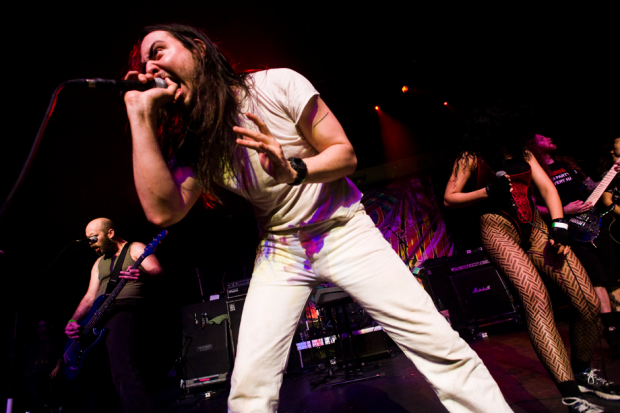 Andrew W.K.: Filling the Super Party late-dinner slot was a tall order, especially considering the new remote location of downtown punk institution Emo's in a strip mall far from downtown — you were either the last act that hungry people saw before fleeing to eat, or the opening act for the rest of the night. Perhaps predictably, Andrew W.K. pursued this task with an almost exhausting single-mindedness. Our man in all-sweat-stained white banged out his pep rally-ish rock kitsch with the manic energy of an 8-year-old piano student having a Ritalin freakout (plus the exuberant, repetitive stamina of the only kid left in elementary school who's still obsessed with Guitar Hero). In true vaudeville tradition, he vaguely insulted the crowd to make sure everybody was paying attention: "Sooooo, we're in a state that's very large / And Rick Perry's in charge," he observed with a shit-eating grin to hoots and bewildered faces, before launching into "I Love New York City," aided by the fist pumps of his hypewoman wife Cherie Lily (looking like a reincarnation of WWF icon Miss Elizabeth). Coming back onstage after briefly exiting following an already lengthy set, he declared flatly, "Encore, motherfuckers!" One thing about Andrew W.K. is undeniable: His reboot of Meat Loaf's Bat Out of Hell is executed with even more inexplicable relentlessness than Meat himself. You. Will. Submit. Or. Well. He. Won't. Stop. Until. You. Do.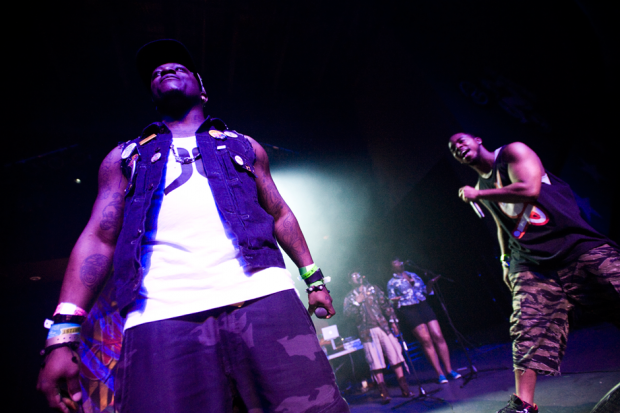 G-Side: In the most ill-conceived segue of the festival, G-Side was up next, yet their earnestly stressed southern-rap anthems were like an airlift of bottled water to a marooned throng in the Chihuahuan desert. Despite an enthusiastic knot of fans down front, the majority of the kids in the cavernous hall seemed to be encountering Yung Clova and ST 2 Lettaz for the first time, and the MCs announced, with good-natured brio: "We know you don't know who we are right now, but when we're finished, you're gonna be so mad you didn't." By by the time they settled into the beachy sway of "Relaxin'," they had the A$AP Mobbin' masses throwing their plastic cups skyward, as back-up singer Joi Tiffany added her remarkable scats to an a cappella breakdown. And by "No Radio," when ST tore through his dramatic litany of everyday troubles that culminates in him putting a gun to the head of a guy at an ATM, G-Side had made an unmistakable impression. Still, these guys, unlike, say, Andrew W.K., will not beg for your participation; as they put it on "No U N Us": "We just out here doin' us / And all that other shit ain't got nothin to do with us / What would you do if you were us? / But you ain't …"
A$AP Rocky: The night's buzziest draw (see the enormous tour bus parked outside) was hip-hop's most enigmatic rapper of the moment. Harlem's A$AP Rocky, and his sprawling A$AP Mob crew were bidding to be this year's answer to Odd Future, i.e., a volatile, weed-breathin' instruction manual of how everyteen can blithely crush his or her parents' hopes and dreams. Whatever you think of Rocky's often deadening, catchphrase-comedy approach to songwriting, he was, for a fairly inexperienced frontman, an endless font of charisma. Starting the show dressed all in a black, including a rather chic hooded raincoat, he stalked the stage with a gleeful insolence, reminding us repeatedly that he was "that pretty nigga" and "that pretty muthafucka," alternately scowling and smirking, rapping along haphazardly over his own laptop voice, always giving away the fact that this was all a game, which could be taken as cynical, but onstage it felt refreshingly unpretentious.
The appeal of the A$AP energy can be hard to identify via mixtape (or even when, say, "Peso," is blaring in a club amped on testosterone and Red Bull) — Rocky and his crew's tracks tend to come off like a generic, off-hand grab-bag of styles developed, refined, and mastered more satisfyingly by others. But live, it's blatantly clear: They're Dipset weaned on lean and YouTube. Harlem floss crossed with Houston wood-grain thump diffused by Internet-nerd distraction. The more unformed and half-bored and random and petulant and presumptuous and pointlessly agitated their performance, the more authentic and entertaining it seems.
I mean, after welcoming his 10-man traveling party onstage to cavort and sulk and cheerlead, Rocky spent the last third of the show shirtless and untethered, disappearing into the pit or semi-crowd-surfing (with a bodyguard's protective hand always an inch away, it must be said), guzzling whatever, and literally partying with his followers. And then, suddenly, he stopped, narrowed his wandering stoner gaze into a harsh stare, as if were horribly offended: The issue? Let Rocky, um, explain: "Who got my motherfuckin' hat, nigga!" he shouted with (mock?) anger. "Where is my hat? Whoever got it better throw that bitch onstage right now, nigga! You got 30 secs or else, nigga!" This went on for quite some time, and even though his hat had been nothing more than one of his own Black Scale-brand ball caps. I cannot report whether said chapeau was retrieved, since I retreated to go to the bathroom, but when I returned, Rocky was back in the middle of an onstage A$AP clusterthug, leading a chant of "Squeeze on my nuts and lick on my butt," which was the cue for everybody over the age of 25 to exit the venue post-haste. I walked out behind a jovial, thirtysomething local couple (fully decked in hip-hop cholo high style), their two kids, age four and five, in tow. When asked what brought the whole family out, dad drawled: "A$AP's that dude, man, the kids love him!" Look out DJ Lance Rock, A$AP Mob may be about ready to fuck Gabbaland's shit up. Loiter Squad was only the beginning. CHARLES AARON