Last night's late-night TV lineup was a good one for crying into your beer. The Kills, performing on Late Show With David Letterman, and Estelle, singing on The Tonight Show With Jay Leno, each offered slow, sad, gorgeously brooding songs reflecting on relationships gone wrong.
The Kills played one of 2012's most striking singles so far, "The Last Goodbye," a creaky ballroom waltz off of last year's Blood Pressures. The song's eye-catching video was shot in black-and-white, but here (via the Audio Perv) Alison Mosshart's chaotically purple hair brings a splash of color to the duo's black-leather look. Mosshart and Kills guitarist Jamie Hince, on synths for this one, even get the little things right: See how the patient instrumental fadeout simulates this heartbroken song's way of pulling off the Band-Aid sloooowly and painfully at the end of a doomed romance. "The Last Goodbye" is out as a 7″ and 10″ release on February 21.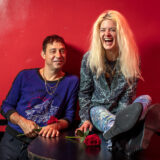 "Sometimes I wonder do you even recognize the woman that's standing in front of you," Estelle begins on Akon-penned "Thank You," from the R&B singer's upcomingand SPIN-anticipated All of Me. Sure enough, it's been four years since Estelle's Kanye West-assisted international smash "American Boy" — an eternity in the music industry, and plenty long enough for another gifted vocalist with a name ending in "-ele" to conquer all comers. This slow-grooving ballad suggests Estelle, too, has had her share of heartbreak in the intervening years, but she's only come back stronger. Her Tonight Show performance (via Yardie) features a gorgeous, shiny black dress and a pair of backup singers to go with an in-sync backing band. No, Estelle, thank you.