Lana Del Rey's conversation-dominating rise has been a boon for at least one long-slogging band. As the Chicago Reader reports, Chicago instrumental rockers Del Rey are finally charting in Germany, and they owe it all — or surely some of it, anyway (we're talking about the nation that gave us Falco here) — to the Born to Die singer.
The metal-leaning quintet's most recent album, 2010's Immemorial, has evidently popped up in Amazon Deutschland's Top 20 more than once, with a high so far this winter of No. 7. Del Rey's Jason Ward, who runs Chicago Mastering Studio with Bob Weston, tells the Reader the band's German label, Golden Antenna, ordered another pressing of the CD after its sales spiked to 500 copies or so in November. Not coincidentally, that's roughly when other Del Rey's "Blue Jeans" entered the European charts.
Couldn't the Chicago post-whatever band's own daunting musical prowess account for the group's sudden Teutonic renown? Ward doesn't say it's impossible. But he won't deny credit to the singer, songwriter, and search-engine-optimization technique formerly known as Lizzy Grant, either. As he told the Reader: "It seems hard to think of another reason a criminally underappreciated band of oldsters such as ourselves would have a sales spike like that, though [Germans] do get all wet over both David Hasselhoff and Die Toten Hosen, so who knows?" You know what else Germans love? Beer!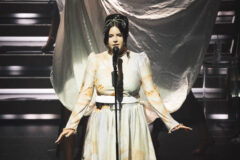 https://youtube.com/watch?v=WG90lKdxr8w%3Fversion%3D3