Saturday Night Live has already won. You're reading this, right? Year after year, the show brings out at least one or two musical guests who generate more buzz for a supposedly awful-sounding performance than all the other, presumably unobjectionable acts do combined. Ashlee Simpson, of course. TV on the Radio. Ke$ha. Hell, even critics' darling Kanye West got everybody to act all Statler and Waldorf a few years ago. SNL has this effect on people.
Prematurely experienced internet lightning rod Lana Del Rey is the latest musical guest to be sucked into the show's everyone's-a-critic vortex, and here's a hunch: All the attention will only help sales of her debut album Born to Die when it comes out on January 30. The pseudonymous singer-songwriter sang the album's online hits "Video Games" and "Blue Jeans," wearing a white dress and maintaining a serious-faced smokiness throughout, backed by a four-piece band. If you already loved these songs, it's hard to imagine this relatively straightforward performance changing your mind, but actress-musician-Scientologist Juliette Lewis — who, let's be clear, has not sung on SNL but is on the NBC payroll as a star of the show The Firm, of which you are now aware — kicked off a tweetstorm of criticism for young Lizzie Grant. You can read about it in your local newspaper.
The end result, of course, is that a bunch of casual music fans who tuned in hoping to see Harry Potter star Daniel Radcliffe got exposed to a couple of catchy-enough songs they might end up wanting to own on disc, and here the rest of us are talking about both SNL and Del Rey. Social networking didn't change the old rule that all publicity is good publicity. As our own senior editor Christopher R. Weingarten wrote way back in 2009 (via the Village Voice's Maura Johnston), SNL garners "extra free press" by making its musical guests' appearances "worthy of comment from the snarky post-Gawker cyberworld, where you don't get mad traffic for 'Oh, Spoon was just so darn good on Letterman! I wanna cuddle Britt Daniel in a Snuggie!' You get traffic for 'The sound on SNL was so bad that I hope everyone in 30 Rockefeller gets a hand-engraved envelope full of anthrax and syphilis and farts.' " Farts!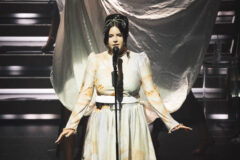 Exhibit B: Anybody still talking about Kelly Clarkson's totally competently sung appearance on last week's SNL? Just us? OK, then. Ms. Del Rey, heed the original American Idolwinner's well-worn advice: What doesn't kill you makes you stronger.