"This beat deserves Hennessy / A bad bitch, and a bag of weed, the holy trinity," Kanye West raps on "The Joy," a bonus track from his recent Watch the Throne collaborative album with Jay-Z. According to a new lawsuit, however, the two hip-hop titans failed to give credit to a soul singer whose voice forms part of the backdrop for that beat, let alone any sips of cognac or eighths of strawberry kush.
According The Hollywood Reporter, 1960s and '70s hitmaker Syl Johnson claims West, Jay-Z, and their labels, UMG and Def Jam, used part of his song "Different Strokes" on "The Joy" and put it out this summer without permission, credit, or payment. In the complaint filed in Illinois federal court, Johnson says West had wanted to put the sample on his solo release My Beautiful Dark Twisted Fantasy but couldn't get permission. Using the uncleared sample on one album after being unable to clear it for a prior album allegedly constitutes knowing and willful misappropriation.
With a more prominent sample from Curtis Mayfield, "The Joy" originally surfaced last year as one of West's free G.O.O.D. Friday downloads. As Yahoo!s Amplifier blog points out, archival record label Numero Group and Island Def Jam then negotiated an agreement to clear the sample — specifically, Johnson's ubiquitous grunt — for a deluxe version of West's MBDTF. That never happened, and according to Numero Group, Island Def Jam never finished up the paperwork to pay Johnson.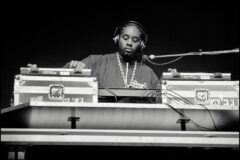 In a since-deleted blog post in August, Numero Group said Johnson was "nearly in tears" to find out the sample was used in the first place. "Island Def Jam seems to think that Syl doesn't have any fight left in him," the label wrote. "We're betting otherwise."
Of the many veteran musicians growing wary about illegal sampling of their works in recent years, Johnson is among the more willing to take newer artists to court, as the Hollywood Reporter notes. Targets of his lawsuits have included Michael Jackson, Jefferson Airplane, and Cypress Hill, and he has won compensation from Wu Tang Clan, Kid Rock, and other artists, according to the publication.
Johnson's $29 million suit against Cypress Hill, however, was eventually dismissed, with a judge finding that his 1969 song "Is It Because I'm Black" — allegedly sampled on the 1993 Black Sunday LP — was not protected under the Copyright Act. Why? Because it was recorded before February 15, 1972. "Different Strokes," released in 1967, could face a similar challenge. Then again, based on the many luxury-flaunting boasts on Watch the Throne, West and Jay-Z can certainly afford to just pay the man.