MAY 1994
San Rafael, CA
Whew! Wasn't that a fun read?
Wait, it wasn't? You're mad I left out this as-yet-unfamous sketch group, or those amazing, little-viewed YouTube films, or that struggling-in-obscurity comedian? Wait, there's an unsigned band I'm too clueless to know about and skipped entirely?
Great! Get pissed off!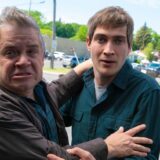 See that picture? That was me in 1994. Doing stand-up. Somewhere. Royally sucking. Vest, shirt tucked in over my already-pooching belly. Hair by DoucheGel.
There were magazine issues like this one. Rolling Stone and GQ and maybe even SPIN doing "state of funny" issues. I was pissed at who they were focusing on and righteous about me and my friends, all of whom thought we were the cutting edge, being left out.
And I know, as I write this, that the next Louis C.K. and The Office and South Park are somewhere out there, struggling to form themselves. I imagine they're reading this issue and getting righteously pissed the same way? I did. Good.
And if you're a fan reading this, go out and find those people.Support them. Buy their self-produced CDs, watch their rough sketch shows, download their YouTube videos. Then, ten years from now, 18 years from now, they can guest-edit this magazine and piss off the next wave.
It's the fuel of funny. Always has been, always will be.
You're welcome.
— PATTON OSWALT
What Patton Did: Full Stories From SPIN's "Funny" Issue:
• Funny Is Deadly Serious: Patton Oswalt Introduces SPIN's New Issue
• Das Racist Cover Story: These Colors Don't Run
• Why Tom Scharpling and Jon Wurster of WFMU's 'Best Show' Are Punk Genuises
• 'Portlandia' Stars Fred Armisen and Carrie Brownstein Toast Rock's Great Cliches
• We Like Short Shorts! Online Comedy That Keeps It Simple (and Stupid)
• Dressed to Kill: A Day in the Life of Rising Comedienne Natasha Leggero
BUY THIS ISSUE
Read the entire November 2011 issue of SPIN.