In a little more than a year, the members of Los Angeles hip-hop crew Odd Future have gone from posting their mixtapes for free online to sharing a stage with Will Ferrell at the MTV Video Music Awards. Now they're carving out their own space on television.
Shortly after Tyler, the Creator's VMA win for Best New Artist, Adult Swim has announced it has picked up the group's 15-minute live action show, Loiter Squad. According to the youth-oriented Turner network, which shares space with the Cartoon Network, the series will consist of sketches, man on the street segments, and pranks. The show will also feature Odd Future's music.
Loiter Squad's producers, Dickhouse Entertainment, know a thing or two about pranks: The Hollywood production partnership of Johnny Knoxville, Jeff Tremaine, and Spike Jonze created MTV's Jackass. Adult Swim's Nick Weidenfeld serves as an executive producer, along with Tremaine, Shanna Zablow, Dimitry Elyashkevich, and Lance Bangs.
Odd Future's multimedia ventures do not discriminate. The group's Golf Wang book, out in November, is set to detail their adventures at home and on the road.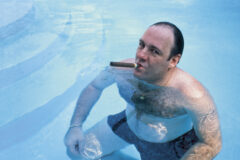 Separately, Odd Future leader Tyler joined Clipse's Pusha T onstage earlier this week at New York City's Bowery Hotel to perform their collaboration "Trouble on My Mind," and ILLROOTS captured video. And not too long ago, a 10-minute Odd Future documentary hit the web titled A Day in Ladera: OFWGKTA. Check them both out below.
WATCH: Pusha T [feat. Tyler, the Creator], "Trouble on My Mind"
https://www.youtube.com/embed/o2WnslGYxUI?version=3
WATCH: A Day in Ladera: OFWGKTA
https://www.youtube.com/embed/aYrOjbdxRkU