At the original Seattle record release party for Nirvana's Nevermind, back in September 1991, Kurt Cobain raised a wry smile in disbelief when someone suggested his new album might possibly sell 100,000 copies: Even to the ambitious Cobain, that dream seemed outrageous.
So one can only imagine how wide Cobain's smile would have been if he'd witnessed last night's Nevermind 20th Anniversary Tribute Concert in Seattle. For the Experience Music Project on Tuesday night, twenty different bands covered songs from the album and other Nirvana tracks. The event was both a celebration of the release of the new Nevermind set (out next Tuesday) and a benefit for Susie Tennant, Nirvana's promotion person who put together that original 1991 record release party, and is now battling cancer. Cobain, more than anyone, would have been in support of that idea, as he adored Tennant.
The Fastbacks, longtime vets of the Seattle punk scene, kicked off the evening with the song that guitarist Kurt Bloch said anyone would "want to come up on the stage and play." It was "Smells Like Teen Spirit," of course, and they played a furious version. There was a back-story to this, and virtually every other group onstage during the night – lead singer Kim Warnick was Susie Tennant's roommate when Cobain would crash at their house, and like many this evening, was a friend of his.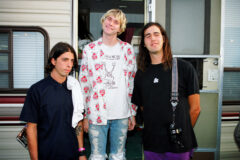 The rest of the first set followed the album chronologically, and as with most tribute shows, there were bands who attempted faithful renditions, usually unsuccessfully, while others wisely shifted the songs into different styles. The breakout performance of the night, though, was up and comers Ravenna Woods who tore through "Breed," increasing the tempo and re-crafting it as if it were a Minutemen song, rather than a Nirvana tune.
Some of the best covers came from bands fronted by women, perhaps because the direct comparison to Cobain was harder to make for a listener. Rachel Flotard of Visqueen managed to spit out a venomous "Territorial Pissings" that outdid Nirvana. Tacocat's "Lounge Act" had Riot Grrl leanings, though the singer's hoarse vocals were more Courtney Love than Kurt Cobain.
And in proof that two decades truly can shift chasms between warring bands, and genres, Duff McKagan of Guns 'N Roses performed "Lithium" with his band Loaded. Cobain infamously hated Guns 'N Roses, but Loaded nailed the song. And McKagan has his own legitimate Nirvana connection: In an odd coincidence he sat next to Cobain on a plane after Kurt escaped rehab, just a few days before his suicide.
Nirvana's Krist Novoselic came on to play "On a Plain" with the Presidents of the United States of America, to wild audience applause. The crowd delivered an even bigger cheer, however, when Novoselic asked for an acknowledgement of Cobain."I want to remember that cheer," he said, taking in the roar.
Novoselic thanked everyone "for caring" about Nirvana, and Tennant. Dave Grohl, who appeared by video feed, echoed that sentiment, and gave a shout-out of love to Tennant. Grohl told a brief story about how he and Cobain once destroyed a gold record award of Tennant's (for a Guns 'N Roses album).
After a short break, another ten bands came out to cover other chestnuts from Nirvana's catalog. The best of that bunch was the Tom Price Desert Classic, who took "Negative Creep," turned it more pop, and made the Bleach song sound as if it were off Nevermind. There were many ironies in this evening, but seeing musicians that Cobain grew up admiring, like Price, who was in the U-Men, honoring Nirvana had an eerie feel at moments.
The concert ended, nearly three hours after it began, with Novoselic back onstage with the Presidents, pumping out the bass riff that starts off "Sliver," one of Nirvana's most spirited songs. It might not have been the same thing as seeing Nirvana in their prime, twenty years ago, but on a night of warm nostalgia, it was enough to set off more than a few wry smiles in the crowd.