Five years after the release of Stadium Arcadium, Red Hot Chili Peppers will return this summer with their 10th studio album, the band revealed via their official site. The disc – produced by longtime collaborator Rick Rubin – will be titled I'm With You and is due out August 30. It will be the first album to feature new guitarist Josh Klinghoffer (the band's one-time touring guitarist), following the amicable split with John Frusciante in 2008.
PHOTOS: Check out rare and candid photos of the Red Hot Chili Peppers through the years.
Earlier this year, SPIN caught up with frontman Anthony Kiedis and he revealed that the band's creative approach was reinvigorated by much-needed time apart: Flea teamed up with Radiohead's Thom Yorke for Atoms for Peace; drummer Chad Smith recorded and toured with his all-star group Chickenfoot; Kiedis took time out to raise his child.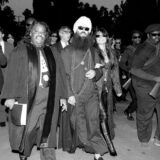 "I think that during the writing of this record I have been the most open-minded and refreshed than I have been in a long time," Kiedis told SPIN. "I guess that comes from a much-needed hiatus and becoming a father."
Kiedis also said that Flea's studies in music theory added a "whole new dynamic" to the sessions. "This album has been one of evolution," he said. "Before, some of our jams were a bit hit-and-miss. On this record, a decent number of songs were actually thought out and planned in a way we had never done before. That is, with Flea's new knowledge of music theory, we explored the writing process with a bit more precision."