After two years off, the Red Hot Chili Peppers are hard at work on their 10th album, due later this year, and, according to frontman Anthony Kiedis, the time apart has reinvigorated the band.
"I think that during the writing of this record I have been the most open-minded and refreshed than I have been in a long time," Kiedis tells SPIN. "I guess that comes from a much-needed hiatus and becoming a father."
While Kiedis was family focused, bassist Flea studied music theory at USC and played in Atoms for Peace with Radiohead's Thom Yorke, drummer Chad Smith played with all-star rock act Chickenfoot, among others, and, most stunningly, guitarist John Frusciante quit the band in 2008.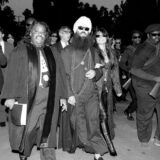 "It is always going to change the chemistry and feeling of the music when such a creative force as John Frusciante leaves," Kiedis says. "He was something unique that shaped our sound then, but now I think it's also something fresh and exciting to have a new, incredible musical mind working with us now. We are still the Red Hot Chili Peppers, but we also have to adapt and welcome new opportunities. After all, that is how we've survived all these years."
Josh Klinghoffer, who'd previously toured with RHCP as a backing musician, officially became the group's guitarist last year, following Frusciante's amicable split.
Flea's musical studies, which included him learning the piano, have helped fill the void left by Frusciante, arming the Peppers with "a whole new dynamic," Kiedis says.
"This album has been one of evolution," he adds. "Before, some of our jams were a bit hit-and-miss. On this record, a decent number of songs were actually thought out and planned in a way we had never done before. That is, with Flea's new knowledge of music theory, we explored the writing process with a bit more precision."
Elsewhere, African vibes have also rubbed off on the recordings, thanks to a trip Flea and new bandmate Josh Klinghoffer took to the continent.
While Kiedis won't reveal song details, he agreed to let SPIN in on the album's affectionate working title, inspired by a friend who dropped by the studio: Dr. Johnny Skinz's Disproportionately Rambunctious Polar Express Machine-head.
"He was reminiscing about one of his legendary acid trips, and told us that he had been playing a sold-out show to the planets and moons, and his number-one hit was, well, that title," Kiedis explains. "We found it so funny that we told him for as long as the album was under the radar, that that would be our nickname for it."
Follow Flea's tweets to keep tabs on the progress of the new album, produced by Rick Rubin, who produced their 1991 breakthrough Blood Sugar Sex Magik, among others.