Toronto hardcore hell-raisers Fucked Up have won plaudits ?for their beautifully squalling ?albums and ferocious live shows, which often begin with singer Damian "Pink Eyes" Abraham, 30, shirtless and end with him covered in blood. But at home, he's a different cat altogether, as we discovered when he invited us inside his study.
Sure, there's loads of records, demo tapes, and music paraphernalia, but he's also got kids! And puppies! Watch the video below and get an inside peek at Abraham's abode.
Fucked Up's latest release, the (relatively) melodic concept album David Comes to Life (Matador), represents a change of attack — which makes Abraham nervous. "If this record becomes incredibly successful, we'll say [the sonic shift] was on purpose," he kids. ?"If not, we'll claim we intended ?it to be harder."
WATCH: Go inside Damian Abraham's study!
Scalable, non-watermarked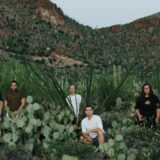 INTERVIEW BY JONATHAN DEKEL / VIDEO BY ALEXIS MITCHELL
BUY THIS ISSUE
Read the entire July 2011 issue of SPIN, available now for iPad.