With its explosive blend of martial rhythms, dive-bomb guitar chords, and lead singer Sameer Gadhia's emphatic falsetto-to-bellow vocals, Young the Giant's breakthrough single, "My Body," sounds like the work of a band born to rattle rafters. But the frontman insists that isn't so. "We're nice normal dudes who don't take ourselves too seriously," says Gadhia. "We started playing just as a bit of nonsense and ridiculousness."
Then leave it to others to treat Young the Giant with more reverence. Earlier this year, "My Body" charted at No. 5 on Billboard's Alternative Rock singles chart and the band performed the song on Jimmy Kimmel Live. They'll spend the summer on a headline tour of Europe (returning for Stateside gigs at the Sasquatch and Lollapalooza festivals) and be back home for a U.S. jaunt in the fall–not bad considering the L.A. quintet has existed in its current form for less than two years.
Gadhia and guitarist Jacob Tilley joined forces as the Jakes in 2004 while still in high school in Irvine, California, gigging only intermittently until 2009, when they put school on hold, adopted a new name, and settled on the current lineup, which includes guitarist Eric Cannata, bassist Payam Doostzadeh, and drummer Francois Comtois. (All are in their early 20s.) Though Gadhia still has two years of coursework to go before he earns his biology degree, the academic experience proved invaluable. "In terms of how to come across as a vocalist, I didn't really get it till college," says Gadhia, who sang in a gospel choir while enrolled at Stanford. Working with the choir gave him a feel for "singing songs that really mean something."
He learned his lessons well. Released in January, Young the Giant (Roadrunner) serves up a dozen soaring anthems, from the antiwar lament "Garands" to the messiah-complex theatrics of "I Got." The passionate material drew the attention of the album's eventual producer Joe Chiccarelli (My Morning Jacket, the Shins), who sought to capture the power of the band's booming live show after catching them at L.A.'s famed Viper Room. Thus, the debut was recorded completely live in the studio. "The dynamic we've forged together is so strong," Gadhia says of that decision. "We just wanted it to keep going for as long as we can." Nothing ridiculous about that.
BUY THIS ISSUE
Read the entire June 2011 issue of SPIN, available now for iPad.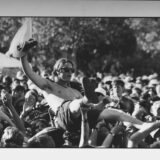 WATCH: Young the Giant on the Road to SXSW — A SPIN Miniseries