Fact that's making us feel old today: Singer-guitarist Davey von Bohlen and drummer Dan Didier have made as many albums with Maritime as they did with the Promise Ring, their previous band/seminal influence on what became the "emo" scene of the 2000s. Human Hearts, the fourth Maritime album, arrives April 5.
As with the rest of Human Hearts, the band's first for Dangerbird Records (which is run by their former manager), "Paraphernalia" features the crisp guitar shimmers that have become Maritime's trademark sound.
But while the song itself comes across as bright and urgent, the Milwaukee-based band filmed the video outdoors, in the midst of a blizzard! It's hard not to chuckle (and commiserate, a little) when the camera pans to Didier's frost-covered face.
Maritime will debut material from Human Hearts at South by Southwest in Austin, Texas, March 16-20.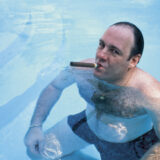 What do you think of the video? Sound off in the comments.
WATCH: Maritime, "Paraphernalia"