Already, 2011 is shaping up to be another big year in music. To see what's in store, check out the latest on upcoming albums from 30 SPIN artists that matter, including the Strokes, the Beastie Boys, the Kills, Drake, Lady Gaga, and more!
PJ HARVEY
The English songstress teamed up with longtime collaborators John Parrish and U2 producer Flood for Let England Shake, a collection of melodic tunes that tackle the vagaries of war, past and present. The record was recorded live in a Dorset, England, church – and Harvey's songs have a stomping, rhythmic vitality that was missing in her more restrained recent releases. (Due Feb. 18)
PATRICK STUMP
Since Fall Out Boy went on hiatus in 2009, the frontman has spent more than a year recording, then completely re-recording, his debut solo album, Soul Punk. What happened? "As for the delay of the album itself, I'd say it's been less about the music or recording and more about all the other things that finish the thought," he told MTV. "I just want to make sure I go to sleep at night knowing I'm not half-assing this." Stump recently released thealbum's first single, "Spotlight." Listen here! (Summer)
BEADY EYE
The debut from Liam Gallagher's post-Oasis band, which also features ex-Oasis members Gem Archer and Andy Bell, dips into everything from Beatles-style psychedelia and classic arena rock to hummable Britpop. "It's proper rock'n'roll," Gallagher said in July. "Oasis was a pop band compared to what we're doing." Different Gear, Still Speeding was produced by Steve Lillywhite (Dave Matthews Band, Morrissey). (March)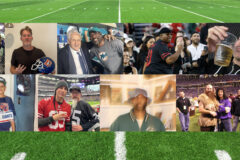 LUPE FIASCO
Fans of the Chicago rapper can give themselves a pat on the back. After Lupe Tweeted that his follow-up to 2007's Lupe Fiasco's The Cool was done but not scheduled, fans circulated an online petition demanding Lasers' release. Warner CEO Lyor Cohen ultimately gave in. In late October, "The Show Goes On," the album's first single, was released. The Neptunes, Kane Beatz, Alex Da Kid, Soundtrakk, and the Buchanans are confirmed producers; guests include Trey Songz and British-rapper Sway. (March 8)
R.E.M.
R.E.M. cut their 15th album, Collapse Into Now, in New Orleans and Berlin, Germany, with producer Jacknife Lee (U2, Snow Patrol), and the 12-track set features some of their fiercest straight-up rock songs in years. Among the best are "Discoverer" and "Alligator Aviator Autopilot Antimatter," which finds frontman Michael Stipe spouting rapid-fire phrases with the dizzying pace of classic tunes like "It's The End of the World as We Know It (And I Feel Fine)." Other highlights include the title track, which has guest vocals from Pearl Jam's Eddie Vedder. (March 8)
KANYE WEST & JAY-Z
Even before he released SPIN's Album of the Year, My Beautiful Dark Twisted Fantasy, Kanye was already working on this collabo with Jay-Z, Watch the Throne. The record was initially intended as an EP but ballooned into a full-length, with the rap titans laying down tracks all over the world, including the South of France and Australia. Listen to its first single "H.A.M.," which dropped in January, here.(March)
THE STROKES
The Fab Five's first release in as many years promises to be a "classic sounding" album in line with the group's groundbreaking sophomore LP, 2003's Room on Fire. And they've changed their creative process: Singer Julian Casablancas recorded his vocals separately from the band for the first time. "It's all a learning experience," bassist Nikolai Fraiture said recently. (March 22)
PETER BJORN AND JOHN
After experimenting with artfully damaged electro sounds on 2009's Living Thing, the Swede trio recruited Cardigans producer Per Sunding and returned to the studio with a new plan: "This time around we had the clear idea of going back to basics — guitar, bass, drums," singer-guitarist Peter Moren tells SPIN. Gimme Some is full of power-pop jams influenced by R.E.M., Stone Roses, Buzzcocks, and the Damned, as well as 1950s blues, soul, and rock'n'roll. "We wanted something peppy, poppy, positive," Moren says.(March 29)
PANIC! AT THE DISCO
With Ryan Ross and Jon Walker out of the group (they left to form the Young Veins), singer Brendon Urie and drummer Spencer Smith are soldering on for Panic!'s third album, Vices & Virtues. The emo-pop stars, who are getting production assistance from Butch Walker and John Feldmann, recently previewed the first track "The Ballad of Mona Lisa," which will be released officially on February 1. (March 29)
THE KILLS
For the duo's fourth studio album, Blood Pressures, Jamie Hince and Alison Mosshart wrote separately, an approach brought on by Mosshart's time on the road with the Dead Weather. "At the start, I was a bit sad about that," Hince tells SPIN. "But it really freed me up to try new things. She'd come back off tour with something she'd write on acoustic guitar. The process was a lot more exciting than ever before." Musically, Hince says the band stepped beyond their angular and minimal sound. "We didn't shy away from melody this time. This time around the songs took over." (April 5)
U2
The veteran rockers are busy working on three albums, and the first to arrive will be their collaboration with super producer Danger Mouse, tentatively titled Songs of Ascent. U2's manager Paul McGuinness told the Irish Times to expect an "early 2011" release. Bono told The Age, "We have about 12 songs with him [Danger Mouse]. At the moment that looks like the album we will put out next because it's just happening so easily." (Unscheduled 2011)
FOO FIGHTERS
Expect a needle-in-the-red rock'n'roll revival for the Foo Fighters' first disc in five years. "There's 11 songs and front to back, there's not one sleepy ballad," Dave Grohl said of the untitled LP earlier this month, before the band teased a blistering new song. Which makes sense: The Foos' album finds Dave Grohl reuniting with Nirvana's Krist Novoselic and Butch Vig, who produced 1991's Nevermind. (Spring)
BEASTIE BOYS
Now that Adam Yauch is recovering from cancer, the New York trio will release their first album in four years. The Boys originally intended to drop Hot Sauce Committee, Part 1 but opted to release Part 2 first, although it's more of a joke, really: Part 2 will feature the track list originally intended for Part 1. "Strange but true, the final sequence for Hot Sauce Committee, Part 2 works best with all its songs replaced by the 16 tracks we originally had lined up in pretty much the same order we had them in for Hot Sauce Committee, Part 1," Yauch said in October. "So we've come full circle." Follow that? (Spring)
LADY GAGA
It's the most anticipated pop record of the year – and Gaga won't let you forget it. For months, she's been teasing bits of info via Twitter and at her shows about Born This Way, calling it "almost perfect," with "endless melodies, hooks + poetry sledge-hammering my skull." The wait is almost up: Gaga will drop album's first single, "Born This Way," on February 13. (May 23)
DEATH CAB FOR CUTIE
On their seventh album, the Seattle indie stalwarts are broadening their sound to include more vintage keyboards and other textures inspired by Brian Eno's Another Green World. Frontman Ben Gibbard told SPIN that early highlights included "Codes and Keys," the group's first song to feature strings in 12 years, and "Unobstructed Views," a seven-minute, mostly instrumental number. (May)
FLEET FOXES
Washington State's bearded folkies were close to wrapping the follow-up to their self-titled debut last fall. But frontman Robin Pecknold scrapped much of the material to "return to the cave," as he called it, and start over. The record has since been mastered and is prepped for release. Expect it to be similar to their debut: bright, pastoral folk tunes, with richly layered vocals and harmonies that call to mind Crosby, Stills, and Nash during their late-'60s prime. (May)
BLACK LIPS
For their upcoming sixth studio album, Atlanta's garage rock bad boys teamed with super-producer Mark Ronson. "We're just spending a lot of time and making sure it's awesome," singer-guitarist Cole Alexander told SPIN.com. "This album is going to be more commercial." Still, the band experimented with country sounds and even used a human skull as an instrument. (Early Summer)
DRAKE
Drake is going all out on Take Care, the follow-up to the former teen soap star's smash debut Thank Me Later. "I really want to write great 'life' raps," he told Shade 45 radio. "I just want to write for the people and speak for my generation." The album will be sonically experimental, featuring interludes and transitions; Q-Tip is reportedly producing. In a December interview with SPIN, Drake said, "I'm working on myself, both mentally and physically, to come back stronger than ever." (Summer)
STEPHEN MALKMUS & THE JICKS
Before Pavement's much-salivated-over reunion tour kicked off last spring, the Jicks recorded 90 percent of their new LP with Beck producing. In August, Beck told Pitchfork they planned to finish up once Malkmus was off the road. A publicist says the yet-to-be-titled release is expected this fall.
RADIOHEAD
Guitarist Jonny Greenwood said it would only be a "matter of weeks" before they finished their first album since 2007's In Rainbows — and that was back in June. Since then, drummer Phil Selway revealed they've toyed with throwing out all the material they've worked on, so it's hard to say where they're at with the record, which will be produced by Nigel Godrich. Still, a rep for the band confirms a new record is due out sometime this year. (Unscheduled 2011)
GYM CLASS HEROES
After releasing his solo album Lazarus last year, frontman Travie McCoy is getting back with his pop-punk crew for their fifth record, tentatively titled The Papercut Chronicles II. The band has roughly 18 songs sketched out and the final product is due out sometime this year. "Some [songs] are in the very, very embryonic stages, and some are more refined," McCoy said recently. (Unscheduled 2011)
JANE'S ADDICTION
After Duff McKagan abruptly quit the band, Jane's Addiction hired TV on the Radio producer-instrumentalist Dave Sitek to take up bass duties (and contribute song ideas) for their new LP, tentatively titled The Great Escape Artist. Expect the record to marry Jane's L.A. punk roots with Sitek's talents for expansive, atmospheric sound collages. "They're songs that take you on a journey, songs that grow from soft to hard to tribal to psychedelic to metal in one song," said drummer Stephen Perkins. We're trying to explore that hybrid again."(Unscheduled 2011)
MY MORNING JACKET
The Louisville, Kentucky, rockers are going back to basics on their sixth record, producing the set themselves in their own recording space — a converted gymnasium. "This time it's just the five of us; the control room is only separated by a curtain," bassist Tommy Blankenship told SPIN in October. "We're going back to a similar vibe that we had on the first three records. It's definitely more laid back than it's been in a while. [The album has] got that vibe to it where it sounds likes everybody is in the same room. Even if someone is only playing on half of a song, you can still feel their presence."(Unscheduled 2011)
RED HOT CHILI PEPPERS
RCHP have roped in touring guitarist Josh Klinghoffer to replace John Frusciante and their latest LP will include songs that were written by Flea on piano, as well as material inspired by Afro-beat music from Lagos, Nigeria. "There's crazy shit on that," drummer Chad Smith told SPIN last fall. "That music just moves to a different groove, it's not your typical Western four-four. The rhythms are so infectious."(Unscheduled 2011)
WILCO
Jeff Tweedy and Co. will release their follow-up to 2009's Wilco (The Album) on their own label, after splitting from their longtime home Nonesuch last year. The band has been quiet about details of the new album — which a rep confirms is due out sometime in 2011 — although the group did hit up their Chicago studio to lay down tracks last October.(Unscheduled 2011)
SANTIGOLD
After the release of her self-titled breakout debut and its blockbuster single "L.E.S. Artistes," the Philadelphia-bred New Wave singer underwent a name change, from Santogold to Santigold, a play on her birth name Santi White. She also collaborated with Christina Aguilera, DEVO, and Major Lazer, among others, and finally returned to the studio in late 2010. While little is known about her upcoming release, a publicist confirms that she's currently in the studio working on the effort.(Unscheduled 2011)
LIL WAYNE
Since his release from prison in November, Weezy has been holed up in his Miami studio working on Tha Carter IV, his sequel to 2008's Tha Carter III. On Twitter, DJ Scoo Doo, Wayne's collaborator, compared the record — which a publicist confirmed to drop in 2011 — to Tha Carter III's lynchpin track "A Milli" — "but on steroids!" Its first single, "6 Foot 7 Foot," featuring Cory Gunz, was released on last month. Reports say Wayne, who started working on the album before his prison sentence, started over from scratch and will use rhymes he penned behind bars. (Unscheduled 2011)
BLINK-182
After drummer Travis Barker's brush with death in a fiery plane crash brought Blink back together in 2009, the trio has been slowly working on their yet-to-be-titled sixth studio album. Bassist Mark Hoppus told MTV, "We've gone through a lot of really heavy stuff over the past few years. There's plenty of heavy stuff to write about." This includes the deaths of longtime producer Jerry Finn and friend DJ AM. Musically,"it's really an expansive record," said Hoppus. "There's stuff that sounds like what we were doing on the last Blink record, and there's stuff that sounds like what we were doing 10 years ago and stuff that we've never done before." (Unscheduled 2011)
OUTKAST
It's been four years since the Atlanta duo dropped Idelwild, but a publicist confirms that, yes, they're working on their long-awaited follow-up, which is expected this year. But according to Big Boi, whose Sir Lucious Left Foot: The Son of Chico Dusty made SPIN's Best Albums of 2010 list, Andre 3000 needs to drop his solo effort first. "Right now, we're putting beats together for the OutKast album," he said. "When 'Dre finishes, we'll commence and record." (Unscheduled 2011)
DR. DRE
Though there's no official release date, Dre already seems to be in promo mode for his next album: The weed-tastic first single, "Kush," recently dropped (as did its video), and he appeared on the cover of XXL magazine. In the interview, Dre said the LP is expected in the "first quarter [of] 2011," and that it will be his last: "I don't ever see myself retiring totally from music, because I have a genuine love and passion for it. But as far as me going into the mic booth, that shit is over. I'm always going to talent scout and try to find new artists to work with. But, yeah, that's it. I don't see myself doing it the way I'm doing it now." (Unscheduled 2011)