It's official: In a post to their website, Seattle indie rock vets Death Cab for Cutie announced a May 31 release date for Codes and Keys, their seventh full-length studio album.
Guitarist-producer Chris Walla recently sat down for an interview with BBC radio host Zane Lowe, and said the LP's first single would most likely be "You Are a Tourist." He added that legendary producer Alan Moulder (U2, Nine Inch Nails, the Killers) is mixing the album.
Last October, singer-guitarist Ben Gibbard chatted with SPIN about the new album — and its experimental sound. "It's not a guitar-based record," he said of the LP, which the band recorded piecemeal in Los Angeles, Vancouver, BC, San Francisco, and Seattle. "We've been into vintage keyboards and playing with that palette."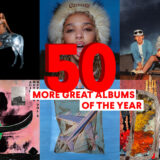 Gibbard cited Brian Eno's Another Green World as a reference point for their upcoming release, the first since their chart-topping 2008 release Narrow Stairs. "We're not adding guitars because people will be expecting them… I'm so proud of this album that at this point I don't care if people don't like it."
Gibbard said the album includes tracks "Codes and Keys," Death Cab's first song to include a string section in 12 years, "Monday Morning," and "Unobstructed Views," which Gibbard called "a sprawling, seven-minute track that's mostly instrumental. It has the piano and keyboard soundscapes that I've been really enjoying."
Lyrically, Gibbard said Codes and Keys is indicative of his new life in Los Angeles with his wife, actress and She & Him songstress Zooey Deschanel. "There's a level of self-loathing in [Narrow Stairs] that I'm a bit of embarrassed about now," he said. "It's a really dark record. I didn't want to make that record again. I didn't want to write those songs again… Everything I write is reflective of my own life and the lives of those people around me," he added. "They reflect the conversations you have and the rumblings of life around you."
Are you excited for Death Cab for Cutie's return? Tell us in the comment section!