"Schaaaawing!"
This weekend's episode of Saturday Night Live offered up two very good reasons to "party on": 1) Mike Myers and Dana Carvey reprised their roles as the Illinois-based rock slackers of Wayne's World, aka Wayne Campbell and Garth Alga, and 2) Linkin Park rocked harder than an Alice Cooper concert. Watch both below!
The duo performed a short skit about the upcoming Academy Awards — "It's a veritable feast for the cinephiles among us," joked Wayne. They duo called 127 Hours some "armless fun," and Toy Story 3, well, Garth "can't believe a teenage boy doesn't want to play with his Woody anymore." Their favorite picture: "Winter's Bone." Guess why.
Linkin Park then shredded through the dark electro punch of "Waiting for the End," from their new album A Thousand Suns.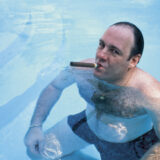 What do you think of this past weekend's episode of SNL? Tell us in the comment section below.
Linkin Park, "Waiting for the End"

Wayne & Garth on Oscars: