Tonight, the Dismemberment Plan — the critically-praised D.C. pre-emo rockers — will kick off a brief reunion tour, their first in seven years, in their hometown. Last night, they warmed up by playing two old faves on Late Night with Jimmy Fallon. Watch below!
The tour celebrates the brand new vinyl reissue of their beloved 1999 album, Emergency & I, a record that's acquired a new generation of devotees in part thanks to emphatic support by Pitchfork, who placed it at No. 16 on their top albums of the '90s list, and awarded it a perfect 10-out-of-10 rating.
On Fallon's broadcast, they performed one of Emergency's best cuts, "The City," then played another track from the album, "What Do You Want Me to Say," as a bonus for the show's website. Singer Travis Morrison was his usual smiley self, and the tunes sounded fresh yet faithful to the original recordings.
All of the band's upcoming U.S. tour dates are sold out, save for their final gig in Seattle on March 12. See the full itinerary here.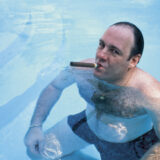 WATCH: "What Do You Want Me to Say"

"The City"