After a five-year break, New York City rock vets the Strokes return this spring with a new album and a fresh outlook.
For their much-anticipated fourth LP, Angles (out March 22) — check out the tracklist below! — the guys gave their songwriting dynamic a heavy-duty makeover. This time, instead of frontman Julian Casablancas leading the writing effort, each member contributed ideas — a first for quintet. "It was a completely different way of working," bassist Nikolai Fraiture tells SPIN. "We listened to everyone's ideas with open ears and came to collective decisions. Everyone had an opinion."
The album title, Angles, "reflects the way the album was made," he says. "It's all about the different approach and the different ways these song came out."
Even more out of the ordinary was the recording process — Fraiture, drummer Fabrizio Moretti, and guitarists Nick Valensi and Albert Hammond Jr. tracked songs without Casablancas, who then added his vocal parts away from the group. "We wrote and rehearsed together as the four of us," Fraiture explains. "Then we'd send the track over to Julian. There was a lot of back and forth. I don't know if Julian had trouble being with us — I don't know what was going through his mind. There were tensions. But it worked."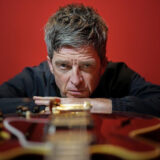 This new approach wouldn't have been possible without the break, says Fraiture — it preserved the band and ultimately contributed to the new album's diversity. "It's kind of like a marriage: you grow a little bit, but it becomes the same after a while. You need something fresh to keep it going. It's something we all needed to do personally." Since the Strokes' last effort, 2006's First Impressions of Earth, four of the five members released solo albums or side projects, which "helped everybody grow," Fraiture says. "We all had something new and fresh to bring to this album."
Work on Angles began at Manhattan's Avatar Studios with producer Joe Chiccarelli (My Morning Jacket, the Shins, the White Stripes), but soon the band's vision and his clashed — so the Strokes retreated to Hammond's upstate studio to re-record the bulk of the 10 tracks. "With Joe, it was a chemistry thing," says Fraiture. "We had trouble working with the 'big producer.' We had the pressure of being in a big studio. Recording ourselves in Albert's studio felt a lot more comfortable. We had time and freedom and it helped us to find our way.
"Because of the nature of how we all came together on this one, there's a lot more variety," Fraiture continues. "We took risks. We took more liberties to round out our sound and take it in a new direction."
Fraiture says the band previously shied away from too much production, worried they wouldn't be able to replicate the sounds live. This time, partially inspired by albums by MGMT, Arctic Monkeys, and Crystal Castles, which "had some production stuff that I liked," says Fraiture, the band experimented with new instruments and more technology, including MIDI electronic samples and Farfisa keyboards. They also overdubbed more guitars, and Casablancas toyed with vocal layers.
Angles's first single, "Under Cover of Darkness," has a "dance-y vibe" that's "most reminiscent of our earlier stuff," says Fraiture. But other tracks, including "You're So Right," a song Fraiture brought in, have a "harder vibe." "The production is different than we're used to," he says. "It's one of those songs that will be more difficult to replicate live. Julian is doing a lot of background vocals and playing with those tracks as instruments come in and out."
The Strokes will hit the road in March and will be playing shows, including summer festivals like Coachella, through the end of the year. And any tensions from the recording process won't hold the band back.
"Everything is great between us now that the album is done," Fraiture says. "That's the hardest part — seeing beyond the daily quibbles to focus on the main goal."
Angles tracklisting:
1. Machu Picchu
2. Under Cover of Darkness
3. Two Kinds of Happiness
4. You're So Right
5. Taken for a Fool
6. Games
7. Call Me Back
8. Gratisfaction
9. Metabolism
10. Life Is Simple in the Moonlight