On Food Network's popular reality show Ace of Cakes, goateed pastry chef Duff Goldman leads a hipsterrific crew of cake makers in the assembly of custom-designed, themed works of multi-layered art for high-paying clients. But when the indie rock-loving bakery learned that Pavement were reuniting last year, the sheer excitement led them to do something they'd never tried: offering to make a cake for free, for someone they truly adored.
"Even when we made a cake for Lucasfilm, they asked us to do it," Goldman tells SPIN, calling in from the now-famous Charm City Cakes in Baltimore, Maryland. "This was us saying, 'Because we think you're awesome and we're stoked that you're going to be playing this show, we want to make a cake.'"
But there was another motive at work, Goldman admits: "'And if we can use our evil powers of persuasion, we'd love to make you a cake so we can come and see the show.'"
The resulting cake-making (and subsequent rock concert hangout) is captured on a new episode of Ace of Cakes which airs Thursday, Jan. 20, on Food Network, and follows the Charm City crew from their original designs for the Pavement cake all the way to New York City, where they presented it to the band and their families at Central Park Summerstage. Watch a clip from the episode below.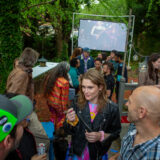 For Pavement, the idea of appearing on a cable TV cooking series wasn't an easy sell, and percussionist-vocalist Bob Nastanovich was the only band member familiar with the program. "I think if you hadn't seen that show before, which none of the four of them ever had, they don't realize it's a bunch of hip, young, arty people who bake really artistic cakes," says Nastanovich. And with his encouragement and some the band's publicist, Pavement agreed to participate, and had the cake delivered to the backstage area at their New York gig last September.
Charm City's Elena Fox, who plays bass and sings backup vocals for Baltimore rockers Squaaks, took the lead on designing the cake, a special honor as the shop's biggest Pavement fan. "When I found out we were doing it, I didn't want to do something cliché," she tells SPIN. "I didn't want to do a weird juxtaposition of all their album design concepts, but I wanted to draw from it a little bit… So I just randomly decided to make a horse, which ended up being funny because Bob is really into horses, he owns horses and stuff like that."
When they presented the cake to Pavement, both Fox and Goldman were thrilled with the response from the band, and their kids. "Most people, when we make them a cake and we're filming their reactions, those people are trying to be on TV," says Goldman. "But they didn't care, and because they didn't care, their reactions were so much more genuine."
"I was just floored, because they've been my favorite band since I was like 13 years old," says Fox. "They were so, so nice and so normal. Steve Malkmus' little girls seemed to be really psyched about it."
The feeling was mutual. "It was very pretty and it was very big and, of course, I'm a huge fan of horses and still own several of them," says Nastanovich. "It's sad to say that the white chocolate horse moved a lot faster than a lot of the ones that I've bred."
Pavement also really bonded with the TV bakers. "They're very intelligent and very cool young people who have a pretty cool TV show," says Nastanovich. "A lot of times you'll see people on TV, then you'll meet them and they'll come off as jackasses, and that certainly wasn't the case with the Ace of Cakes staff. They're fantastic people and they certainly like to party hard."
The Pavement episode of Ace of Cakes airs Jan. 20 at 10 P.M. EST on Food Network. Check out the clip below!
WATCH: Ace of Cakes bake for Pavement