Britpop rabble rousers Oasis are no more, but three-quarters of the band, led by singer Liam Gallagher, will return on March 1 with Different Gear, Still Speeding, the debut album from their new rock outfit Beady Eye.
Gallagher and former Oasis guitarists Gem Archer and Andy Bell teamed with drummer Chris Sharrock immediately following Oasis' split in August 2009 to begin writing and recording material for the LP, which will be released in North America via Dangerbird Records.
The new band holed up in London's RAK Studios last fall to track the effort with Grammy Award-winning producer Steve Lillywhite (U2, Dave Matthews Band, the Smiths). The result is 13 genre-spanning Britpop and rock tracks, from the album's first single,a Beatles-esque piano ballad called "The Roller," to the blazing glam-rock boogie "Bring the Light."
"We could all have sat at home after Oasis split but what would have been the point of that," Andy Bell said. "We had a couple of weeks off and then we were back in the studio demo-ing. We're musicians, it's what we do, it's how we define ourselves."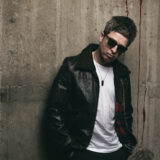 Adds Gallagher, "We're fired up, not because we thought we'd show everyone it could happen without you know who [Noel Gallagher], we're fired up because we're doing music."
Beady Eye are finalizing dates for an upcoming U.S. tour, on which they will be joined by keyboardist Matt Jones (Ultrasound, Jamie T, Minuteman) and bassist Jeff Wootton (The Black Marquee).
"I'll be honest, when the gigs come round with Beady Eye, we'll be shitting it, because it's a new thing," Gallagher admitted. "We've been rehearsing the live set for the last two weeks though and it's sounding great. We're a new band, we're not going to get above ourselves and start thinking we can play stadiums and arenas, we don't want to jump the gun, we want to go out and do small gigs, get back into that vibe then do another album, and take it gradually, stay in the moment of being a new band."
Are you excited for Liam's return with Beady Eye? Sound off in the comment section below.
Different Gear, Still Speeding tracklist:
1. Four Letter Word
?2. Millionaire
?3. The Roller
?4. Beatles and Stones
?5. Wind Up Dream
?6. Bring the Light
?7. For Anyone
?8. Kill for a Dream
?9. Standing on the Edge of the Noise
?10. Wigwam
?11. Three Ring Circus
?12. The Beat Goes On
?13. The Morning Son