For 2008's double platinum Viva La Vida or Death and All His Friends, Coldplay hired producer Brian Eno for the sessions. Now the group is teaming up with the studio whiz again for their next record – and it's a concept album, to boot.
"It's from the point of view of two people who are a bit lost," frontman Chris Martin told the BBC of the album's storyline. "Two like-minded outsiders who meet in a very difficult environment and therefore have a journey together."
As for the sonic direction of the album, Martin said they're putting Eno (along with Viva co-producer Marcus Dravs) in charge of orchestrating the soundscapes, although Martin will still be in charge of writing the basic ideas for songs. "Brian is the sower of seeds and ideas and experimenting, which is very liberating," says Martin. "Then Marcus' job is to come in after all that's been done and try and sculpt it into some kind of releasable format. " (No release date has been set.)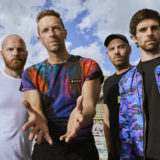 Meanwhile, Coldplay are set to play U.K. gigs later this month for the charity Crisis. "I think it will be good for us to get our gig feet on for a couple of days because sometimes you can get very institutionalized in the studio," Martin said.
Coldplay also recently released a new holiday single, titled "Christmas Lights," which you can check out on SPIN's list of the best holiday tunes here.