The latest video from 30 Seconds to Mars, the wildly popular band fronted by actor Jared Leto, has been banned from multiple outlets, and not just because the good folks at TV networks are saving you the agony of listening to anything off the band's fairly wretched album This Is War.
The new, 13-minute clip for "Hurricane" aims to be more like a blockbuster movie than a music video, an arty, provocative sci-fi epic, with cinematic-style titles, subtitles, and chapters, and the band's one-note, anthemic rock acting as its score. But a scene at the 9:20 mark, where a woman reaches between another woman's legs and strokes her (over leather panties) is what's landed the clip in the not-safe-for-America bin. Watch it below.
According to the full scene-by-scene analysis by an unnamed network's compliance department — which Leto reposted on his blog and is a truly fascinating read — it's that one scene that prevented the clip from airing on the network at all.
Other footage would have forced the network to put certain broadcast restrictions on the video. For example, what the channel's compliance officer calls "man grabs and squeezes lady's breasts" at the 10:53 mark would mandate that the clip only be broadcast post-10 P.M., while "gimp man hits singer with sledge-hammer" at the 6:40 mark would have only mandated a post-7 P.M. restriction — reinforcing that age-old adage that sex on TV is more dangerous than violence.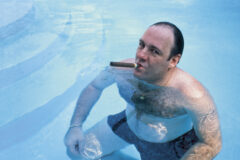 Watch the video, with all of its controversial footage, shirtless Jared Leto shots (he even jumps off a skyscraper — and lives), and all its nonsensical imagery, then tell us what you think in the comment section.
WATCH: 30 Seconds to Mars, "Hurricane"