Like most everything produced by Georgia's freak funk collective Of Montreal, the clip for "Famine Affair (off False Priest, one of SPIN's top-rated albums of 2010 so far) is visually stunning and sexually charged. Watch it below!
In the clip, a man confronts a gaggle of whimsically dressed, attractive women, whose baby shower-esque party turns into an orgy of sorts. When he confronts the group, he's overrun and beaten up, then forced to, umm, perform….
Frontman Kevin Barnes explains: "It's the story of a man living in a feminine empire. As a male, he is considered lower class. He is expected to abstain from any social interaction with members of the ruling class, and provide sperm for breeding rituals. Each household is provided by the State with one male, the housemale is not permitted to leave the grounds. The housemale must live in the estate he is assigned to until death or sexual impotence."
Jason Miller (who also directed the band's video for "Coquet Coquette") and Nina Barnes (a former band member and Kevin's wife) co-directed the gorgeously shot, immaculately styled clip.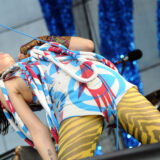 Check out the video below, and an updated list of Of Montreal tour dates below that.
The band is also launching a remix contest for "Famine Affair," and will accept submissions through November 19. Download the song stems and get more info here.
WATCH: Of Montreal, "Famine Affair"

Of Montreal Tour Dates:
11/3, Austin, TX (East Side Drive In)*
11/4, Houston, TX (Numbers)*
11/5, Oxford, MS (The Lyric)*
11/6, Atlanta, GA (Variety Playhouse)*
11/7, Atlanta, GA (Variety Playhouse)*
11/12, Mexico City, Mexico (Salon Los Angeles)
11/13, Guadalajara, Mexico (Lydo's Show Center)
11/20, Sao Paolo, Brazil (Planeta Terra Festival)
1/11, Mobile, AL (Soul Kitchen)**
1/12, Tallahassee, FL (The Moon) **
1/13, Orlando, FL (Firestone)**
1/14, Ft Lauderdale, FL (Revolution) **
1/15, Tampa, FL (The Ritz)**
4/2, Halifax, NS (Halifax Multi Purpose Centre)
* w/ Janelle Monae
^^^ w/Har Mar Superstar & Provocatease
**w/Kid Sister