A redheaded sorceress! Spaceships! A damsel in distress! It's a true sci-fi storyline in "Lawless Lands," the new music video from Austin metal act, the Sword. The clip is the second in a video trilogy inspired by Warp Riders, the band's most recent record, a concept album based on an original sci-fi narrative. Watch below!
In the video, the band members play intergalactic soldiers (albeit clad in, um, t-shirts and jeans) who cruise the cosmos in a spaceship, willing and able to do the bidding of their sexy female commander. As the ship navigates through asteroid fields and dodges meteors, the band performs "Lawless Lands," a chugging, gloomy cut that nods to Black Sabbath.
The band then descends upon a foreign planet, emerging from their spacecraft and drawing — shocker! — swords in their attempt to rescue a young lady. Amid a furious crescendo of guitar licks, they speed her back to her home planet.
The intergalactic scenery — starry skies, desert planets, gray polygonal spaceships — upholds a classic sci-fi aesthetic. "I love it when the spaceship is on screen," bassist Bryan Richie tells SPIN. "It looks like we made it into an episode of Star Trek."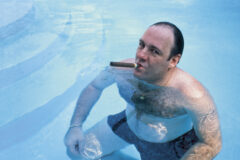 What do you think of the Sword's new video? What fate could await them in the final installment? Sound off in the comments!
The band kicks off a U.S. tour November 27 in Baton Rouge, LA. Click here for dates.
WATCH: The Sword, "Lawless Lands"