Justin Timberlake hit up Late Night with Jimmy Fallon last night to talk about his new movie The Social Network, but the singer, who has shied away from the stage recently and hasn't released an album in four years, teamed up with Fallon for a hilarious medley of hip-hop classics. Watch the clip below.
In a "History of Rap," Timberlake and Fallon tore through close to a dozen hip-hop tunes from the last thirty years: Sugarhill Gang's "Rapper's Delight," Beastie Boys' "Paul Revere," Dr. Dre's "Nuthin' But a 'G' Thang," Digital Underground's "The Humpty Dance," Eminem's "My Name Is," Kanye West's "Gold Digger," and Jay-Z's "Empire State of Mind," where Timberlake and Fallon ran through the crowd.
The medley's clear highlight: Miss Elliot's "Work It," where the pair nailed Elliot's famous backwards-rapping chorus.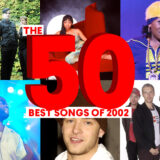 Before the medley, Timberlake talked about his love of classic hip-hop acts like Sugarhill Gang, recalling one time when the group opened up for 'NSync at the boy band's peak. "I was at Jones Beach Ampitheatre, so long ago, and we asked them to come open for us," Timberlake said. "They rocked my world!"