At first glance, the opening night of the Alice in Chains/Deftones/Mastodon tour proceeded in reverse order of relevance:
Openers and prog-metal titans Mastodon are still coming off the high of last year's Crack the Skye; Deftones, the only good band ever associated with the onerous nü metal scene, need to recapture some momentum with the new Diamond Eyes; but Alice in Chains? The one-time bastion of Seattle's hard rock-grunge scene seems as out of place in 2010 as Teen Spirit deodorant.
And let's not forget that Alice in Chains regrouped three years after the death of vocalist Layne Staley – and a decade after its last studio album – with a new singer, William DuVall. Replacing a singer is perilous at best; generally it's the hallmark of has-beens still clinging tightly to something that slipped through their fingers ages ago.
Generally. But the reconfigured Alice in Chains have proven shockingly vital. Last year's Black Gives Way to Blue – their first album since 1995's Alice in Chains – earned positive reviews from critics and fans who had every right to be skeptical. (An Elton John cameo? Wha?) Within a couple years, Alice in Chains have gone from playing clubs to opening this tour Thursday night at Chicago's 7,500-capacity Charter One Pavilion. No wonder guitarist-vocalist Jerry Cantrell says the band is thinking of doing another new album.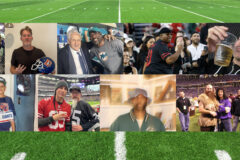 Still, any group that relegates Georgia's hard-charging Mastodon to an opening slot risks getting blown off the stage every night. And any concert at an open-air venue on Chicago's lakefront in mid-September invites punishment from the city's capricious weather gods.
So under a thick cloud cover, strong winds, and chilly temperatures, Mastodon took the stage promptly at 7 p.m. and, as usual, unleashed its thunderous assault. With only 40 minutes, the band had to work quickly to cram in nine songs, so there was no time for Crack the Skye's more epic tracks.
Mastodon was also hampered by a murky PA mix that buried the vocals of bassist-vocalist Troy Sanders and guitarist-vocalist Brent Hinds. The rest of the group sounded a little flat on the speakers, even though what was happening on stage looked anything but. Still, it wasn't surprising; an opening slot on a big arena tour is only going to offer a Mastodon sampler – better to see them when the return on their own.
The stakes are definitely higher for Deftones, the one-time leading lights of heavy mainstream. After bassist Chi Cheng was severely injured in a car accident in 2008, the band had to reassess its future. Even frontman Chino Moreno admits they had grown complacent, and Cheng's accident – he remains severely incapacitated – pushed them out of that. With former Quicksand bassist Sergio Vega filling in for Cheng, the band made a nice return to form on Diamond Eyes and showed no rust from its limited touring schedule over the past few years.
Standing atop a special riser at the front of the stage, the svelte Moreno plowed through a set that mixed old and new, hitting several favorites – "Be Quiet And Drive (Far Away)," "My Own Summer (Shove It)," "Passenger" (featuring Rise Against's Tim McIlrath on vocals) – and closing with a one-two punch of old-school classics "Engine No. 9" and "Seven Words" (both from Deftones' 1995 debut, Adrenaline).
Alice in Chains wisely went old early on in their set, opening with "Them Bones" and leaning on the new album for only three of the set's 16 songs. The star of it all was undoubtedly Cantrell, who attracted some rare hero worship from the audience. After "No Excuses," someone yelled "We love you!" to which Cantrell responded, "We love you back, man." He was clearly appreciative that his band has been granted a second life.
They earned it.
Onstage, Alice in Chains didn't look like a band coasting on their legacy. The group's groovy sludge was tight and focused, with the new blood provided by DuVall complementing the sound rather than distracting from it. And songs like "Rotten Apple," "Man in the Box," and "Would" – the encore that closed the show – still sounded great.
In the end, the order of the night's lineup made sense after all.
Setlist:
Them Bones
Dam That River
Rain When I Die
Again
Check My Brain
Your Decision
No Excuses
Down in a Hole
Acid Bubble
We Die Young
Lesson Learned
Angry Chair
Rooster
Rotten Apple
Man in the Box
Would