Real-life couple Jenny Lewis and Johnathan Rice are taking their romantically-tinged debut album as Jenny & Johnny, I'm Having Fun Now, out on the road this fall. But first, the duo invited SPIN into their L.A.-area living room and showed us some of their favorite things. Watch the video below!
Among the goodies: Rice's leather jacket, in which he's done "a lot of bad things"; a hip-hop mixtape given to Lewis by the late Corey Haim; Rice's mug shot from a Louisiana incident in 2008; and a poster from the 1989 movie The Wizard, in which a tweenaged Lewis starred alongside Fred Savage of The Wonder Years fame.
Take a tour of the duo's pad, and tell us what you think in the comments section below!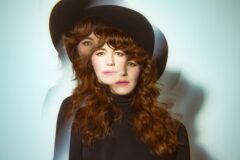 FILMED BY MATT JACOBY. EDITED BY MEGAN DONIS.