Gold Motel might hail from Chicago, but their sunny rock'n'roll is pure California sunshine, and it's in top form on their new song, "Safe in L.A." — check out the exclusive video below!
The track is off the band's recently released debut album, Summer House, and while they've been together for just six months, the fivesome have been pals for years, and played in other Windy City bands: Singer/keyboardist Greta Morgan co-fronted the Hush Sound, an early signing of fellow Chicagoan Pete Wentz of Fall Out Boy; guitarist Dan Duszynski, bassist Matt Schuessler, and drummer Adam Kaltenhauser were part of This Is Me Smiling; and guitarist Eric Hehr played in the Yearbooks and the Villains of Verona.
And while many of the songs on Summer House were initially conceived by Morgan during a year spent living in Los Angeles, Hehr wrote "Safe in L.A." before he joined Gold Motel, while enduring wintertime in Chicago. "I was kind of bummed out, living in dreary Chicago, and my friends were in L.A., so I wrote the song as a love letter to California, romanticizing about the lifestyle I presumed they were living out there," he tells SPIN.com.
Hehr brought the song to his new bandmates, and, to use Morgan's term, they "Gold Motel-ified" it, changing the lyrics a bit and imbuing the soulful, '60s pop that surges through the entire album. "We made it a little more bouncy, sweeter, and softer than the other version," Morgan says. Adds Hehr: "Everyone in the band loves Motown, and I think you hear that, too."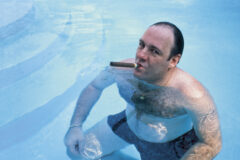 The video is also "Gold Motel-ified," offering close-ups of all five members as they shuffle through the catchy tune. But despite the glossy look, the video was shot in the suburban Chicago basement of the director's parents, and only cost them a fog machine rental charge and $75 worth of pizza to make.
"Dan and Matt and I ate so much pizza that we fell asleep during the shoot," Morgan recalls — here's a TwitPic she snapped of her bandmates in their pizza coma.
It shouldn't be all DIY for long, though. While it's already available through online retailers, Summer House will get a physical release in the fall, and the band's touring schedule is filling up, starting with an East Coast swing with ex-Spitalfield frontman Mark Rose in July and August. See their MySpace for full dates.