Ever wonder what would happen if Michael Scott from The Office dropped acid and wandered out into the woods? Observe for your edification: The video for "Grape Aerosmith," off Black Moth Super Rainbow songwriter Tobacco's album, Maniac Meat, starring Beck on lead vocals! Watch it exclusively below.
"Grape Aerosmith" is one of two tracks on Maniac Meat, which came out in May, that feature Beck. A chance meeting between Shaun Koplow, the manager of Anticon, Tobacco's label, and Brian LeBarton, Beck's musical director, helped get the collaboration in motion.
"Brian mentioned that Beck had listened to [Tobacco's 2008 album] Fucked Up Friends, and actually knew who I was," Tobacco tells SPIN.com. "We worked long distance — Beck wrote his own lyrics and did his own vocal treatments. I didn't give him any direction."
The video starts with a frustrated employee's ordinary day at the office, making phone calls and filing papers, and then quickly escalates into a migraine-inducing ride on the crazy train. Among the many highlights: Sparkly magical beings whose intestines crawl out of their chests, horned deer-devil creatures, confetti, woodland seizures, and lots of silly string — this video is better than an anti-drug PSA.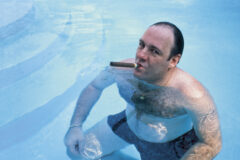 Director Allen Cordell promises a happy ending: "After being confronted by the psychedelic spirits, our protagonist is cleansed, enlightened by the surreal experience." And it's true: Screeching synthesizers die down into the background at the song's conclusion, too, leaving our protagonist staring into the camera with an expression that could be interpreted as "enlightened" — or "stunned into permanent psychosis."
Tobacco kicks off a North American tour September 9 with Dreamend and Junk Culture, traveling up the eastern seaboard until October — check Facebook for full dates.
What do you think of the video for "Grape Aerosmith"? Let us know in the comments section below.