BEST EPIC DANCE PARTY: MATT AND KIM
"Saturday night Coney Island dance party, what is UPPP?" screamed Matt and Kim's Matt Johnson to thousands of writhing fans during the band's 8 p.m. set at Siren Fest on the Brooklyn boardwalk. The hyperactive dance-punk optimists reached national attention last year, with tracks from 2009 record Grand appearing everywhere from Xbox commercials to Gossip Girl, and Johnson kicked off the set by rapping R. Kelly's "Ignition," and later used his synth to blend the melody of Sir Mix A Lot's "Jump on It" into Matt and Kim hit "Good Ol' Fashion Nightmare." (Biz Markie's "Just a Friend" came later, and eventually a quick version of Alice DeeJay's '90s dance hit "Better Off Alone.") With cheek-to-cheek grins, the duo blared through hits like "Yeah Yeah," "Lessons Learned," and "Daylight." Both Matt and Kim (Schifino) jumped into the crowd several times, and Kim drummed so fast and hard she broke her bass pedal halfway through the set.
BEST BUZZ BAND: DOM
Worchester, MA, four-piece DOM have been making blogosphere waves since January with their massively catchy lo-fi synthpop-and tracks from their recent Sun Bronzed Greek Gods EP couldn't have been a more appropriate 1 p.m. kick off for Siren's sunfilled locale on Saturday. Clad in a neon pink t-shirt and white backwards baseball cap over his long dirty-blonde locks, frontman Dom Simon breezily sang party-starting anthems with lyrics like "It's so sexy / To be livin' in America" over glittery synths and pounding bass. While the band received a few enthusiastic head nods and "woos" at the first chords of the mega-catchy 80s-sounding "Burn Bridges," their spot-on dancefloor hooks and teen-movie commerciality are bound to up the fan volume soon.
BEST SHREDDING AND SHRIEKING: SCREAMING FEMALES
When Screaming Females hit the main stage with their full-throttle fuzz rock, the New Brunswick, NJ, power trio proved why they've spent the past year touring with The Dead Weather, Arctic Monkeys, and Ted Leo. Best known for the epic shredding and shrieking skills of pint-sized frontwoman Marissa Paternoster-the band's throaty sole female, clad in a knee-length red army trench despite the blistering heat-Screaming Females had troves of fans headbanging by 2 p.m. Packed with massive in-your-face solos, songs like "Bell" and "Lights Out" from 2009's Power Move garnered the most passionate crowd response. But "I Don't Mind It" off the band's upcoming album Castle Talk presented a clean and accessible vocal-heavy sound, with slimmer guitar riffs-not a bad thing. The fierce set ended with Paternoster curled up in a ball, screeching her loudest and shoving her mic in her mouth, before producing a psychedelic wall of guitar noise with an array of nobs and pedals.
BEST STAGE BANTER: HARLEM
Austin, TX, trio Harlem craft vintage melodies that sound straight from a 1950s Coney Island jukebox, if early girl-chasing doo-wop bands were also into '60s Nuggets garage, '70s punk, Tecate, and spliffs. As the jokesters sped through a half-hour set of aggressive-but-heartfelt tunes, they spewed hilarious stage banter ("That circle pit sucks!") while security guards kept members of the manic audience from crowd-surfing onto the concrete. "I don't think security's having as much fun as us!" said guitarist Michael Coomer. (Earlier, the band encouraged members of the crowd to break down the barricade and take over the photo pit.) Harlem proved why they're indie rock's most loveable bad-boys-and why they'll spend two weeks this summer supporting The Dead Weather on tour.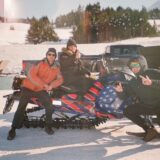 BEST FESTIVAL VETS: TED LEO AND THE PHARMACISTS
Ted Leo and the Pharmacists have been churning out near-perfect pop-punk with killer hooks and sociopolitical messages for more than a decade, and at Siren, the band's fierce technique clearly distinguished them as seasoned vets among a line-up of up-and-coming acts. Drawing from their deep discography-including Heart of Oak's "Where Have All the Rude Boys Gone?" and Shake the Sheets' "Little Dawn"-they flew through gem after energetic gem as fans shouted along to the lyrics. Things got quiet and deep on Living with the Living's political "The Toro and the Toreador" (especially when Leo sang the quick line "Everybody wants body counts, and I just want to cry" sans instruments). But the highlight of the set came when lead Screaming Female Marissa Paternoster joined to guest howl on "Woke Up Near Chelsea" off 2010's Brutalist Bricks.