The Roots are back with their first new album since becoming America's favorite late-night house band — and their full-time gig with Jimmy Fallon hasn't tamed the Philly boys one bit. Listen to How I Got Over, a day before its official June 22 release, over at MySpace right now.
The genre-blending hip-hop group recruited John Legend, Joanna Newsom, Jim James of My Morning Jacket and Monsters of Folk, and the ladies of Brooklyn's Dirty Projectors for their ninth studio album.
In SPIN's album review, music editor Charles Aaron writes that emcee "Black Thought goes B-boy Book of Job, decrying technology, acid rain, tsunamis, stock-market collapse, wars, atrocities. Then he spits bluntly: 'Why is the world so ugly when you made it in your image?' You'd have to rewind early-'90s Scarface or Wu-Tang for such convincingly cold-eyed hip-hop existentialism."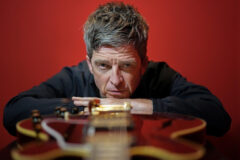 The Roots recently held their annual Picnic Festival in their hometown with pals like Vampire Weekend, Wu-Tang, Das Racist, and more. See photos and read about the best moments here.
What do you think of the Roots' new album? Tell us in the comment section below.