Some of today's hottest musical acts are paying tribute to their favorite artists in Levi's new performance series, Pioneer Sessions.
Dirty Projectors, Nas, She & Him, and the Swell Season are among the acts picked by Levi's to cover classic songs that influenced their music.
The latest installment: Brooklyn's Dirty Projectors, whose cover of Bob Dylan's "I Dreamed I Saw St. Augustine" was posted Thursday. But there's more: She & Him's take on oldies standard "Fools Rush In" (recorded by by Elvis Presley, Ricky Nelson, and many more), the Swell Season's interpretation of soul singer Candi Staton's "Young Hearts Run Free," and Nas' version of Slick Rick's "Hey Young World." Watch video of all four performances below — and to download MP3s, plus see behind-the-scenes photos and video, click here.
Over the next six weeks, two songs from the Levi's Pioneer Sessions will be posted each week. Upcoming performers including Passion Pit, Jason Mraz, and John Legend & the Roots.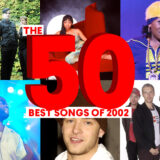 Dirty Projectors cover Bob Dylan's "I Dreamed I Saw St. Augustine"
https://www.youtube.com/embed/haksCi1yMmE
She & Him cover "Fools Rush In"
https://www.youtube.com/embed/tWDjDL2NAQM
Nas covering Slick Rick's "Hey Young World"
https://www.youtube.com/embed/ntF8OwDxlvw
The Swell Season cover Candi Staton's "Young Hearts Run Free"
https://www.youtube.com/embed/li4c3GqdqD4