Liam Gallagher and two of his former bandmates are officially in the studio, recording material for their first post-Oasis album — and now their new band has a name: Beady Eyes.
Fronted by Gallagher and featuring former Oasis members Gem Archer (guitar) and Andy Bell (bass), Beady Eyes are working on new music with Steve Lillywhite, the Grammy-winning producer who has worked with U2, Dave Matthews Band, and Morrissey, among others. A photo of the new band working in the studio surfaced today on the official Oasis website.
Back in January, Liam said he'd be heading into the studio in April, hoping to have an album out by July, but it appears that timetable was a bit ambitious.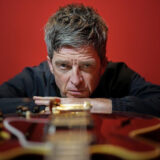 Oasis split back in August 2009, after a long tumultuous relationship between the Gallagher brothers, and Liam had hoped to continue under the Oasis name, but that won't be the case.
As for the new band's sound: "It's a little bit different, but not too much," Liam said in December. "It's the kind of music our fans have always liked, you know? I'm not forcing this down anyone's throats. That's not good for the soul."
In the meantime, Oasis' guitarist and sole remaining member, Noel, is readying the band's singles compilation: Time Flies…1994-2009, a collection of some of Oasis' greatest hits for a June 15 release. A single called "Whatever," previously unreleased in the U.S., is set to hit radio airwaves today. See the full album tracklisting here.
Excited for Beady Eyes' new material? Tell us in the comment section below.