Their music is fun and fuzzy — so why shouldn't Pains of Being Pure at Heart have a video filled with plushies? Watch the cute-as-can-be clip for "Higher Than the Stars" below.
The song — from the late-2009 EP of the same name — carries on the band's sensual, bright-eyed shoegaze pop, and benefits from a particularly glowing keyboard swell from Peggy Wang.
In the video, a pretty girl searches for comfort and companionship on the rough streets of Brooklyn, struggling to find her place until she meets a colorful bunch of plush characters come to life — which may or may not be the product of a drug-enhanced trip. "Our songs are not some cartoon version of us," singer-guitarist Kip Berman told SPIN last year. "They're our life." So maybe it's a true story!
Enjoy the video below — it's a small nugget to tide fans over until the band's second full-length album arrives in Spring 2011.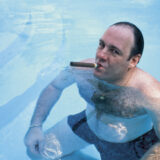 WATCH: The Pains of Being Pure at Heart, "Higher Than the Stars"