"You're kind of witnesses to our rehearsal" said frontmanChris Cornell of the newly reunited Soundgarden, thirty minutes into the band's first time playing together on stage in 13 years, a secret fan show in anticipation of their Lollapalooza headline gig in August.
For days, the music community of Seattle had been buzzing about the just announced NudeDragons (an anagram of Soundgarden) show, whose tickets sold out minutes after going on sale yesterday morning.
Anyone not lucky enough to get a ticket waited hours for high-priced miracles to happen underneath the Showbox's "NudeDragons Sold Out" marquee.
A few young men and women stood holding "name your price" signs, though one guy's limit was $180 because that's all the money he had. Some speculated that a few fans got in by bribing the club's bouncers for $2500. A passerby wearing tie-dye said to one person desperate for a ticket, "Good luck in life."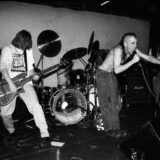 One did feel lucky, though, once inside. The crowd included some of the greats of Seattle's storied music scene: Mark Arm and Matt Lukin of Mudhoney, ex-Shins member Dave Hernandez, Sub Pop co-founder Jonathan Poneman, photographer Charles Peterson, Built to Spill drummer Scott Plouf, and Exene Cervenka of Los Angeles punk legends X.
The band emerged at 10 PM in fitted black T-shirts and jeans. Cornell's curly hair was shoulder length and about as big ever. Bassist Ben Shepherd, drummer Matt Cameron, and a grayer lead guitarist Kim Thayil rounded out the quartet.
They opened with "Spoonman," the song named after street performer Artie the Spoonman, who used to entertain at the nearby Pike Place Market.
The bulk of material in their 100-minute set hadn't been played live since the early nineties and included "Hunted Down" and "Nothing To Say," the out-of-print 1988 Sub Pop single that they're re-releasing as a limited Record Store Day 7″ single today.
There was little talk from the stage and few interactions between the band members, although Cornell thanked the crowd after every song.
There would be no "Black Hole Sun" for this more selective hometown crowd, although hits like "Rusty Cage" and "Outshined" worked their magic.
Setlist:
1. "Spoonman"
2. "Gun"
3. "Searching With My Good Eye Closed"
4. "Rusty Cage"
5. "Beyond The Wheel"
6. "Flower"
7. "Ugly Truth"
8. "Fell On Black Days"
9. "Hunted Down"
10. "Nothing To Say"
11. "Loud Love"
12. "Blow Up The Outside World"
13. "Pretty Noose"
14. "Outshined"
15. "Slaves And Bulldozers"
Encore:
16. "Get On The Snake"
17. "Big Dumb Sex"
18. "Waiting For The Sun"