Kanye West is seeking rap redemption.
After Taylor Swift-gate and his soulful, Auto-Tuned 2008 release 808's and Heartbreak, he's returning to his hip-hop roots, recruiting Q-Tip, RZA, Drake, and Pete Rock for upcoming album, tentatively titled Good Ass Job and expected in June, Billboard reports.
Q-Tip (a member of the recently reunited alt-rap group A Tribe Called Quest) confirmed to Brooklyn Bodega that he was collaborating with West. "I just try to work with people who I admire or whom I think has got it," he told the website. "So right now I'm working on Nas' shit, about to work with Kanye on his shit."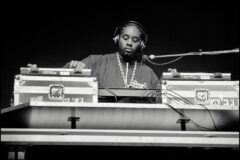 Wu-Tang Clan member RZA, producer/rapper Pete Rock, and producer No I.D. also flew to West's home/recording studio in Hawaii to record, according to Rock4Life.com.
A Tweet from former LOUD Records honcho Schott Free confirmed the Hawaii collaboration. On March 9, Free Tweeted at Pete Rock, "Enjoy Hawaii, I'm sure you and Kanye are killing it," and then claimed that Q-Tip was on his way. "Hot," Free wrote. Indeed.
SPIN favorite Drake is also on board for the new record, despite reports of bad blood between him and Kanye. "Me and Kanye, when we do come together, it's great. We have great chemistry," Drake told MTV in January. "In a couple of weeks I'm going to Hawaii so I can work with him and No I.D. some more." No I.D. has produced tracks for Common and Alicia Keys, and has previously worked with West on 808's.
Excited for West's upcoming album? Tell us in the comment section below.