Sacramento, CA, quartet Far are an essential building block in the emo scene, a pioneering band that influenced the likes of Jimmy Eat World and Thursday with their melodic sound and moving lyrics. Now, over a decade after their split in 1999, Far are back and gearing up to release At Night We Live, their first LP in 12 years out May 25. Below, watch exclusive video footage of the band recording their new album in the studio!
Far — frontman Jonah Matranga, guitarist Shaun Lopez, bassist John Gutenberger, and drummer Chris Robyn ? are focusing on perfecting their characteristic sound. "With all of us coming together again, we were like, 'Man, let's just do what we do well and make it even better… and I feel like we have," says Lopez.
Far recorded their first demo in 1991 and signed with Epic in 1994. While their third album, Tin Cans with Strings to You, became a hardcore touchstone, the band changed up their sound in favor of more symphonic alt-rock on its follow-up, 1998's Water & Solutions, and hit the road with fellow Sacramento rockers Deftones. Both releases have gained cult classic status over the years.
After Far's split in 1999, Matranga went on to a successful solo career, founding now-defunct bands onelinedrawing and Gratitude. He also lent vocals to rapper Lupe Fiasco's 2006 single "The Instrumental," off his debut album Food & Liquor.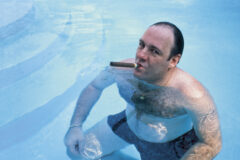 Released on Vagrant records, the new record keeps with Far's gritty yet hyper-melodic guitar and drum heavy formula, with catchy harmonies that highlight Matranga's strong, soaring vocals.
One of Far's new songs, the title track "At Night We Live," addresses the 2008 car accident of Deftones bassist Chi Cheng, who is still recovering in a Northern California hospital. Matranga recalls a dream he had about looking into Cheng's eyes: "I wrote the line, 'In the daytime we're dead / but at night we live,' and that was literally me trying to say…there Chi was, that was me spending time with him.'"
"The album for me is meant to stand as if we never played another note: 'Would I be proud to have this be an artifact — that we were ever there? And it does that," added Matranga.
Far will tour the West Coast later this April opening for The Used, and will headline throughout May — more dates will be announced soon. Check out Far's website for a full itinerary and to preorder At Night We Live.
Excited for Far's reunion? Tell us in the comment section below.