Band hiatuses and subsequent solo records are a full-blown trend these days and Icelandic rockers Sigur Ros are following suit. The band recently announced a break to pursue individual projects, and frontman Jonsi Birgisson has stepped out first with his (mostly English language) SPIN-approved solo effort Go — out April 6 in the US. Watch video of a live performance of first single "Boy Lilikoi" below!
The clip, directed by Jai Stokes (a member of now defunct Britpop group I am Seven) and filmed at a London gig earlier this year, highlights Birgisson's pure falsetto and sweeping acoustic guitar, as Go collaborator Nico Muhly plays the piano. The atmospheric, baroque vibe comes through in Birgisson's military-like costume, tinsel decorated backdrop (a la your high school prom), and a quick cameo by some peacocks!
Birgisson also has a DVD entitled Go Quiet in the works. Directed by Dean Deblois, the film follows the frontman as he deals with the aftermath of a New Year's Eve party. Watch the trailer here. You can also catch Jonsi on tour beginning in April. Check out his website for dates.
Let us know what you think of Birgisson's new video in the comment section below.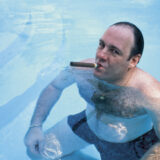 WATCH: Jonsi, "Boy Lilikoi"