Ramble John Krohn — better known as RJD2 — is a Philly-based DJ-producer whose lengthy career has earned him a spot among underground hip-hop's elite. This year he released The Colossus, which SPIN gave a four-star rating. And now you can check out the exclusive video for "A Spaceship For Now," the latest single from The Colossus.
The video tells the story of a crashed flight and its surviving stewardess, who faces the daunting task of escaping the deserted island by building a makeshift plane from whatever she can salvage from the wreckage.
"What I love about the video is how surreal and weird it is," Krohn says. "It's like a timeline with gaps in it that basically forces you to come up with your own storyline or chronology. Or you can just bug out on the big ambience of the synths. It's a perfect fit."
The song itself is an ambient instrumental laid over a heavy drumbeat with flashes of synth throughout.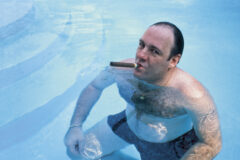 RJD2 is currently out on his longest tour yet, which will take him both stateside and across the pond all the way into summer. Check his MySpace for dates and tickets.
Let us know what you think of RJD2's latest video in the comments.
Watch: RJD2, "A Spaceship For Now"