Motion City Soundtrack are on a career high.
The Minneapolis band's SPIN-approved fourth album (and major label debut) My Dinosaur Life dropped in late January, opening at No. 15 on the Billboard charts, the group's biggest success yet. Tuesday night, MCS dropped by Late Night with Jimmy Fallon to celebrate with a spot-on performance of album single "Her Words Destroyed My Planet." Watch below.
"This is the most honest song I've ever written," frontman Justin Pierre recently told SPIN.com about the cut, which describes "some J.J. Abrams alternative universe reality type shit."
Musically, the song exemplifies the overall punch of the band's new album, which SPIN reviewer Mikael Wood praised for its "radio-ready balance between mayhem and melody."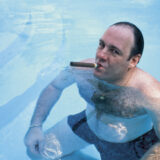 Motion City Soundtrack kick off an lengthy world tour Feb. 3 in New York City. Check out their complete schedule here.
WATCH:Motion City Soundtrack Rock 'Fallon'
https://www.youtube.com/embed/0wTgdJOKD04