In the eight years since the Strokes instigated savior-speak with the gutter-glam classic Is This It, Manhattan has been nanny-stated into bland fashionability, the quintet's hipster status has gradually declined, and its rhythm guitarist, drummer, and bassist have all beaten singer Julian Casablancas to recording solo albums. "Last Nite" was a long time ago.
Good thing, then, that Casablancas' impressive solo debut sounds like the future. With the mild exception of chugging opener "Out of the Blue," Phrazes for the Young jettisons garage rhythms and punk guitar palimpsests for glowing grids of synths and clattering drum machines. The effect is more Tokyo neon than Lower East Side leather.
Surprisingly, the sonic leap forward intensifies Casablancas' greatest gift — melody. (Well, second greatest — he's still got that dirty croon.) Whether it's the gleefully stroboscopic "11th Dimension," glitchy "River of Brakelights," or sweeping "Tourist," the album's eight songs have indelible verse-chorus hooks. The keyboards and treated guitars piston in catchy counterpoint. The architecture is amazing.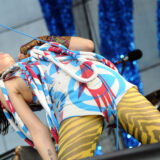 Still, although Casablancas has figured out how he wants to sound, he seems unsure of what to say. Phrazes' lyrics slip into awkward sloganeering ("America / Nothing is ever just how you plan") and vague diatribes against twin persecutors "they" and "them." It's a curiously overbearing match for the fresh backdrop. But this man's career has always been about surfaces. Here, they positively gleam.
WATCH: Phrazes for the Young album preview https://www.youtube.com/embed/GXpXpYLoCek