Folksy duo the Swell Season aren't exactly known for their comedic chops.
Whether we're talking about their Oscar-winning music in the tearjerker film Once, or their recently released follow-up, Strict Joy, this band makes a living on bummed out balladry.
And that's part of the reason why the cameo appearance by actor Jason Segel (Forgetting Sarah Marshall, How I Met Your Mother) onstage at the band's L.A. gig this week was completely surprising — and pretty hilarious. Watch the video below!
Segel, whose character in Sarah Marshall composes music for television — and writes an adorable musical about Count Dracula, staged by Henson-esque puppets — sat at Swell Season member Markéta Irglová's piano, and talked about how she gave him some pointers on writing love songs. "Just write a song from the heart and include as much personal information as you can," she told him.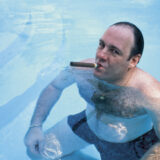 Backed by the entire Swell Season ensemble, Segel sang about whether "it would be wrong for me to use my celebrity status to make love to a Swell Season fan tonight," and offered up his cellphone number as the song's chorus. It's 315-329-6673 if you'd like to give him a buzz.
Aside from encouraging the ladies to bring a friend — "Whoever said that three's a crowd, they can go to hell," he sang — he reminded fans about his special endowment: "Remember when I showed my penis in Forgetting Sarah Marshall? There were no special effects, so if you like what you saw, that's exactly what I'm working with."
WATCH: Jason Segel with the Swell Season
https://www.youtube.com/embed/9bZF6Kx88LM