The electro-rock group Shout Out Out Out Out (or ewt ewt ewt ewt if you're Canadian) from Edmonton, Canada, just finished a tour for their most recent album, Reintegration Time (2009, Normals Welcome Records), and I joined them for the last leg that included three cities, two countries, and Newcastle Brown Ale.
Although one might assume that this music was created by DJs tooling around in their garage, this band was forged in the ever evolving local music scene in the geographically isolated city Edmonton, and all six members have a previous connection to singer Nik 7's recording studio. Their music is a combination of catchy dance beats with vocoded vocals, which makes you feel as though you're listening to a soundtrack from the future. Hello future, count me in if this is what new music will sound like. Their live performance is the key to their success and national domination.
The unique combination of two drummers, and four bass players who switch between a collection of analog synthesizers, is enough to make you stare in awe.Throw in a bunch of high kicks, fist pumping, and jumping around, and the group churns out a show with so much energy, even your grandfather would get up off his rocker to bust a move.Each member brings so much to the stage, that you feel as if you're watching a spectacle and not a one man show so frequently seen in touring bands these days.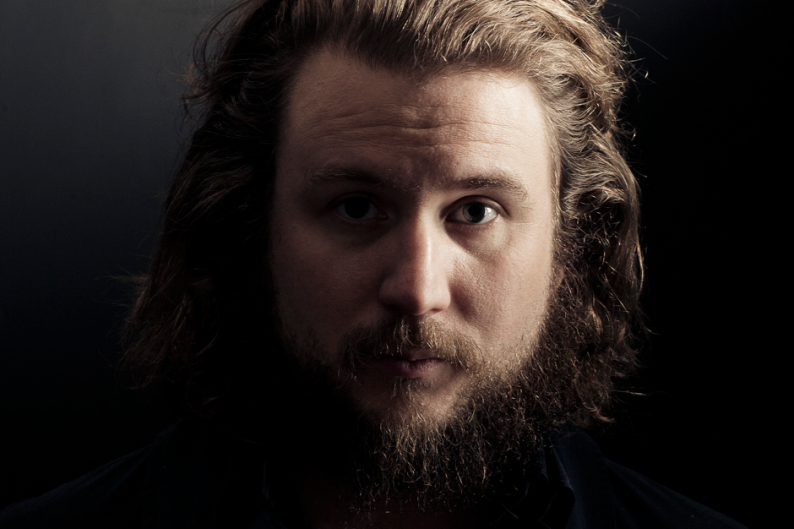 I went on the road catching three shows in New York City for the CMJ Music Marathon, then crossing the border to witness the group rock out in Montreal, finishing up with an epic performance in Waterloo, Canada. Here are my notes from the road:
Day 1: Brooklyn, New York
SOOOO played for a packed house of hipsters at Williamsburg's newest spot at 213 N. 8th Street. The setting was a dark, warehouse-sized room, with massive ceilings. A video show was projected on the high walls that surrounded the band, and helped to create the futuristic ambience so fitting for their music. Since the stage was small, the band improvised by setting up mainly on the floor, integrating them that much more with the audience. The set started two hours late, but was prime time for a Thursday night in New York.
Although the audience seemed mellow, I could hear fans singing along as I roamed the crowd. The band cranked out an hour-long set, opening up with thumping beats from the song "Bad Choices" that elicited cheering.
Day 2: New York, New York
The next afternoon, I met up with Jaycie Jayce for some record shopping and a taco taste test in the East Village.The verdict?Paquito's makes an authentic cactus taco.As for music, Jaycie, who is also a DJ, picked up records by Bottin, Calude VonStroke, and Jackpot.
For their second evening in New York, SOOO took on a double header, playing primetime on the large stage at Webster Hall, and finishing with a two o'clock late night set at the intimate Mercury Lounge in the Lower East Side.Some die-hard fans even followed the band from one venue to the next, giving energy right back by dancing up a storm.At one point the Alberta provincial flag was brought out by audience members.Although Webster Hall was an ideal venue for its size and space, it was the tiny Mercury Lounge that made you realize why these guys are true performers.There was less than two hours in between gigs, but their energy level never wavered.
A highlight for me was playing roadie for the evening.It was a chance to meet the rest of the group and find out what jokers they really are.These are light-hearted guys who truly enjoy playing with each other.
Day 3: Montreal, Quebec
The time in Montreal went by so quickly that it's almost as if we were never there. From what I can remember, the show at Il Motore in the Plateau area was a success. According to the group, shows in Montreal can be hit or miss.The band has a large following in Canada, but Montreal seems to be the one major city where they have yet to make it big.A highlight of the night was a guest appearance by Canadian rapper Cadence Weapon, who collaborated on their new single and video "Coming Home."His introduction by lead singer Nik 7, included a disclaimer saying, "this is the first time we've played together since recording the song about a year ago, and also the first time we've done it live."The night ended up in a blur, as both Nik and I celebrated a good show with some Newcastle and Poutine (a French Canadian dish of fries with cheese curds and melted gravy).
Day 4: Waterloo, Ontario
By day four, I was finally hitting a wall.Lack of sleep from late night shows, and early morning flights gave me a brief glimpse into the life of a touring musician.The group played one of their favorite venues.The Starlight Room was a packed house of crazy fans, even on a Sunday night.After a set by Toronto duo TMDP, SOOO took to the stage and played the best show I had seen in my four days with the band.The crowd was crammed tight, and jumped up and down in unison to songs such as "Dude You Feel Electrical" and "In The End It's Your Friends," with the chorus that adds "Who will fuck you over."
My ultimate moment of this tour came when I was brought on stage for the encore performance.Snarf, one of the drummers, passed me a cow bell and said "go nuts."I took their advice to heart, and channeled the energy that a SOOO member should put forth on stage. After the show, and multiple encore songs, fans swarmed the merchandise booth to meet the band. Somehow I was asked to sign some cleavage from an adoring fan.Does this qualify me as an honorary rock star?
Shout Out Out Out Out is made up of members: Nik 7 (Nik Kozub), Jaycie Jayce (Jason Troock), Poppa (Lyle Bell), Willie Dieminzz (Will Zimmerman), Gravy (Gravy), and Snarf (Clint Frazier).